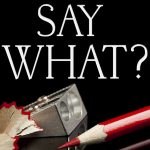 Logic would tell us that flammable might be the opposite of inflammable. But we all know the English language is often not logical. And if you read the post on semimonthly and bimonthly, you'll know what I'm talking about!
So, in keeping with the ridiculous, those two words mean the same thing (whereas bimonthly might mean two completely different things).
Most warning labels, therefore, use flammable when stating to use care with a product. Too often people assume—logically—that inflammable must mean an object won't catch on fire.
Oddly (or are we not beyond "odd" by now?), we use inflammatory when talking about something that rouses trouble or passions: "He gave an inflammatory speech." But there is no word flammatory. You'd think there would be one, and it would be interchangeable, just as flammable and inflammable are.
But that's English for you. And it inflames my patience!
---
Please take one minute to vote for Live Write Thrive!
It's that time of year again!
I want to thank you, faithful readers, for choosing Live Write Thrive each year as one of the TOP TEN blogs for writers. Out of more than 1,000 entered votes, Live Write Thrive has won the last three years running.
Let's keep it going!
I would be grateful if you would take ONE minute to vote. 
Here are Write to Done's directions:
How to Nominate Your Favorite Writing Blog for the Top 10 Blogs for Writers 2015/2016
To Nominate your favorite writing blog, you need to do 3 things in the comments section of this post:
Nominate only one blog post from your favorite writing blog. If you nominate more than one blog post, even in different comments, only your first vote will be counted.
Specify the correct web address of the blog post you've nominated.
Give reasons why you believe the blog post you've nominated should win this year's award. 
If your comment does not fulfill these criteria, your nomination will be invalid.
While I'm sure you have your favorite Live Write Thrive posts, I'm going to put links below to MY favorites. If you don't want to take the time to find your own, AND you loved one of these posts (maybe read a few if you missed them!), just grab one of these.
Thanks again, so much, for supporting Live Write Thrive. This blog is for you! Again, here is the LINK to VOTE
Post links:
Six Tips on What to Do with Those Writing Ideas
A 12-Month Strategic Plan for Marketing Your Book
How Writers Can Avoid Underwriting Emotions
How Novelists Can Make Unbelievable Stories Feel Real
The 2 Deep, Dark Secrets of High-Producing Novelists
The Only Self-Publishing Platforms You'll Ever Need
How to Get in Writing Shape after a Long Break
I hope you've enjoyed these posts (and all the others on my blog!), and I'm grateful for your support.
Here's to another terrific year ahead! I'm already compiling some killer posts for you on scene structure and opening pages. I'm excited to get going in 2016 with some very intense online courses that will help you reach your writing dreams! Stay tuned.