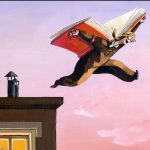 Today's guest post is by Brandon Cornett.
Are you a writer trying to reach more readers? Do you want to increase your exposure among your target audience? If so, you could benefit from starting your own blog. And if you currently have a blog but haven't put much effort into it, now is the time to begin.
I speak from experience. As a veteran freelance writer, I've used blogging to help my clients grow their websites and businesses. And as a fiction writer, I employ those same skills to bring readers to my own site, to support my publishing goals. In this article, I'll share some of the lessons I've learned through fifteen years of blogging.
Three Good Reasons to Start Blogging
Almost any writer of fiction or nonfiction can benefit from publishing a blog. It allows you to promote your work and grow your audience by doing something you love—writing. With that in mind, here are three more reasons to start blogging.
You already have the necessary skills.
As a writer, you already have the most important skill needed to launch a blogging program—you know how to write. You know how to introduce ideas, develop them, and support them with information. Those are the primary skills needed to launch and maintain a blogging program, and you've got them in spades. Continue Reading…