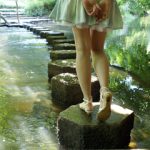 Today's post is by Hayley Milliman.
I started writing when I was seven years old. My first stories were ghost stories, carefully crafted and meticulously printed in small three-ring binders.
As I grew up and moved on to different topics, my love for writing grew too. What didn't come along, however, was a desire to make sure my writing was perfect.
In many ways, I'm the ultimate pantser. In my ideal world, I spend all day waiting for inspiration to strike, and when it finally does, I write and I write until my fingers bleed. Then, I send off the work, without so much as a single reread.
Of course, writing this way isn't practical, and it's certainly not going to get you very far if you're hoping to actually earn money from your work. As I've matured into a professional writer, I've had to build a process and structure for myself that ensures my work is not only inspired but technically correct and enjoyable to read. Part of that process includes making use of something I swore I'd never use: an editing tool.
An editing tool is like the plague to a pantser like me. For years, the last thing I wanted to do was go sentence by sentence through my own work, looking for missed commas or clunky turns of phrase. Continue Reading…