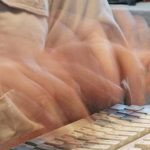 The first fifty pages of your novel carry the heaviest burden for your story. The opening chapters are all about setup. Setup of characters, premise, tone, writing style, conflict, stakes, world/setting, and so much more.
Thousands of writers across the US are finishing a novel today—or at least trying to. For some committed to NaNoWriMo (National Novel Writing Month), this was a first effort. Others have participated many times and have cranked out the semblance of a novel each of those years.
I imagine a lot of writers who signed up didn't reach the finish line of 50,000 words. I recall how hard it was, writing my first novel thirty years ago. It took me almost a year, and I thought it was a masterpiece.
How wrong I was. Continue Reading…