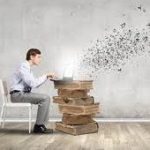 For this week's Throwback Thursday, we're looking at an excerpt from a previous post titled Putting Passion in the Pages.
I'd like to focus a little more on passion this week. I mentioned last week how some writers' passion seeps through into their pages. It seems to be something tangible, electric, contagious. I believe that kind of passion comes through the best when we step aside and get out of our own way as we write.
What do I mean by that? Well, those things I mentioned that can trip us up—the need for success, validation, an audience—create roadblocks to passionate writing.
On one shoulder, glaring at us as we write, is that infernal internal critic. And on the other shoulder is the needy, worrying, insecure author thinking she's just fooling herself and everyone else by assuming she can write well. We need to get out the duct tape and put a strip over each of those two annoying hecklers' mouths. Really.