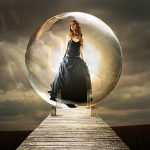 There is a simple method for determining if you have enough characters in your novel or if you have too many. And that's by scrutinizing each character in relation to your plot.
For example, in the movie Dragonfly, Joe Darrow, a doctor who lost his wife, has a next-door neighbor, Miriam, a woman who is a lawyer and who lost a child in death. She is a friend and ally who is also a voice of reason and encouragement to Joe. She presses him to go on a rafting trip, to sell his house, to get help when he's losing it. She proverbially holds his hand and supports him when no one else will. No other character in the movie has that role or can take it on.
The story needs her character. Joe needs her. Because, without her, he would not follow the clues that lead him to where he must go to get the answers he needs about his wife's death. Her presence not only reflects the kind of person that might normally be found in real life, it also is used to move the plot forward. If all Miriam did in the movie was wave hi and look sad every time she saw Joe, her appearance in the story would be filler and useless. Pay attention to that.
If three characters served basically the same role as Miriam, that would clutter the story—hence why experienced authors suggest rolling multiple characters with redundant or overlapping roles into one character. Continue Reading…