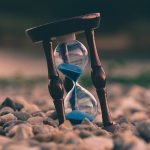 Today's guest post is by Juliet Dreamhunter.
Let's be real: there's a tiny black hole in the bottom drawer of your writing desk, isn't there? One that greedily devours minutes and hours while you wrestle with a plot twist or a stubborn character refusing to cooperate.
Fiction writing is no walk in the park—it's a labyrinth of creativity and practicality, where every corner turned has you running into a wall of time constraints.
The world doesn't pause for you to breathe life into your stories: the dishes need washing, the bills require paying, and the inbox awaits your attention.
What if you could navigate this labyrinth more effectively?
In this article, I'll share 10 time management tips I learned over the years as a certified goal success coach. They will help you make the writing process less frustrating so you can write that masterpiece while still enjoying your life! Continue Reading…