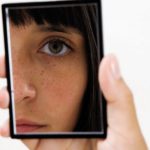 In this broad and deep look at the Productivity ABCs—attitude, biology, and choices—we've considered many of the roadblocks that keep us from "cranking it out."
Every writer is different and brings with him, into his writing life, a unique set of roadblocks. Only you can determine what those are, the ways that might work to crash through them or hack around them, and the lifelong adjustments you may need to make to become the super-productive writer you long to be.
Who Is That Writer in the Mirror?
I want to talk about your self-image for a moment. In the introduction, I mentioned that you're not really an author in the professional or career sense until you publish a book. But even before you get "there," it's important to see that goal, that finish line.
If you haven't finished writing that first book, fix it in your mind that you're a productive writer. See yourself as a professional, not an amateur. Everything you do should be with that mind-set, and with the ultimate goal before you. Continue Reading…