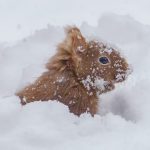 We took a look at distractions a bit in some earlier posts, but I want to dig deeper into this topic (hence the photo of the cute rodent in the snow). We all know what things distract us during the day and what our "weaknesses" are. Some of us just can't stay off social media or check our phones for messages or emails every five minutes. Others get partway through writing a page and notice the floor needs sweeping or the dirty dishes are sitting in the sink.
One prolific best-selling suspense writer I know says she will find every and any reason not to write. She'll be on her hands and knees scrubbing the stain out of her carpet instead of working on her scene. She looks for excuses not to write.
That's not because she hates writing. It's because writing novels is hard! It takes intense focus and concentration, and the effort is often mentally exhausting. And again, if we're pushing ourselves to write difficult scenes because of a deadline (self-imposed or no) and/or we're trying to be productive during a low time biologically, we are going to be more easily distracted.
It takes a lot of discipline to stick your butt in your chair, stay there, and be focused so you can crank out those scenes. Continue Reading…