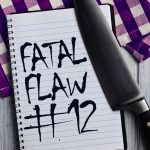 This month we wrap up our yearlong look at the 12 Fatal Flaws of Fiction Writing. Editor Rachel Starr Thomson opens up our look at Fatal Flaw #12: Flawed Writing Mechanics. We'll be looking at the bigger picture regarding our fiction, and Rachel begins with a look at scene structure.
Way back in month 2 of this series, we talked about the need to open scenes in the right place. The general rule is to open in media res—that is, while something is happening. On the other hand, it's generally best to bow out while things are still happening: close the dinner conversation with the last line of dialog, not after everyone has fallen silent, gotten up from the table, washed the dishes, and gone to bed.
To put that succinctly: "Come late; leave early."
We've also looked at various elements of a great scene: action, pacing, description, dialog, POV, the many ways to show and not just tell your story.
But as our yearlong series wraps up this month, we're going to take a step back and look at scenes as a whole. We'll be paying some attention to genre and how certain genres call for certain writing styles.
This week, I want to kick things off by discussing the all-important structure of a scene. Continue Reading…