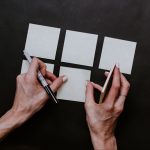 Writing a novel is a challenge. If you've done it (or tried to), you understand. I'm a big proponent of plotting my novels in advance. While many writers dislike plotting and feel comfortable "pantsing," it can take a lot of years and practice to get down novel/story structure well enough to "wing it" and come out with a solid story.
I do believe that even pansters can benefit by some basic plotting, and putting together a simple outline is a great way to start coalescing ideas and pieces of story into some organization. I've worked with countless (well, at least I've never tried to count them all) writers at the outline stage, and I've seen what appears to work best—not just for them but also for me as an author.
The first stage is to get all those drifting ideas down onto something tangible: index cards, a notepad, a Word doc, Scrivener. Whatever you're comfortable working in. I find that taking some weeks or months to let an idea simmer and grow into a premise and finally to a fully fleshed-out plot works best. Keeping a folder to stuff ideas into helps tremendously, whether you jot a scene idea on an index card or you have various pages for your character ideas, plot elements, relationships, twists, etc.
I'm going to share some things I hope will help you in the early stages of your brainstorming and plotting to make the process less overwhelming and more organized. Continue Reading…