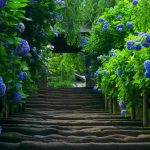 Whether setting is a huge element in your story because of your premise or not, you can make setting powerful and impacting by choosing each place carefully.
For each scene, consider your high moment and the plot point you are going to reveal. The setting should be determined by the high point of the scene. Stop and think what main plot point or character insight you are going to center on in a scene.
What's a high moment? Think about the purpose of your scene. Why are you writing it? What key plot development are you planning to show? Your scenes need to be crafted so that the action builds in the scene to this key moment, which comes at the end.
Consider the dynamics and conflict of the characters in that scene and ask: Where can I put these characters to generate the most conflict (inner and outer) and the strongest emotional quotient?
How do you want her to change in this scene? Think of the perfect setting to create or influence that change. Continue Reading…