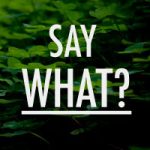 The subjunctive mood is one we often use without thinking. But often writers use it incorrectly in writing, so it is worthwhile to take a close look at this interesting "mood" we use all the time.  This structure is used not only for positive statements but also with negative, continuous, and passive constructs.
Negative Examples:
The boss insisted that John not be at the meeting.
The company asked that employees not accept personal phone calls during business hours.
I suggest that you not take the job without renegotiating the salary.
Passive Examples:
Matt recommended that Debbie be hired immediately.
Lee demanded that I be allowed to take part in the negotiations.
We suggested that you be admitted to the organization.