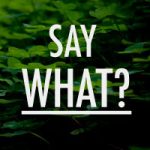 The subjunctive mood is one we often use without thinking. But often writers use it incorrectly in writing, so it is worthwhile to take a close look at this interesting "mood" we use all the time.  This structure is used not only for positive statements but also with negative, continuous, and passive constructs.
Negative Examples:
The boss insisted that John not be at the meeting.
The company asked that employees not accept personal phone calls during business hours.
I suggest that you not take the job without renegotiating the salary.
Passive Examples:
Matt recommended that Debbie be hired immediately.
Lee demanded that I be allowed to take part in the negotiations.
We suggested that you be admitted to the organization.
Continuous Examples:
It is important that you be standing there when he gets off the plane.
It is crucial that a car be waiting for the boss when the meeting is over.
I propose that we all be waiting in Tim's apartment when he gets home.
These forms of the subjunctive have nothing to do with hypothetical or wishful situations, which is what many writers associate with the subjunctive mood. However, sometimes this use of the subjunctive can sound stiff and formal. If that's not the tone and style you want in your writing or in your characters' POVs, you might want to ditch the subjunctive:
When he gets off the plane, you better be standing there.
Make sure a car is waiting for the boss after the meeting.
I propose we all wait in Tim's apartment until he gets home.
Sometimes these differences are subtle, so it behooves writers to take a moment to think through the specific meaning they want to convey in a sentence. It is important that you be mindful of how you write!