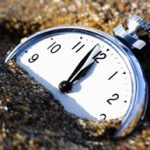 In this series about productivity, I've been talking a lot about excuses and distractions. Many writers complain to me how they just can't find time to write, how they can't seem to finish their book they're writing, and how they can't get motivated.
I mentioned that the key to becoming a super-productive writer is you gotta want it. That's at the heart of why so many aspiring writers spin their wheels and never finish or publish anything. If you really don't want to put in the hard work to see the success you're after, be honest with yourself. It's fine to dabble in writing as a hobby. Writing is fun, and if you're pressuring yourself to be a famous best-selling author and it's really not what you want with all your heart, you should examine why you're pushing yourself toward this goal. Maybe it's time to take up golf or sewing.
On the other hand, if you truly want to crank out books—quality books—and you're struggling with your attitude, your biological challenges, and/or your habits, you need to identify the culprits and attack them. We've looked at many things a writer can do to evaluate the roadblocks to super productivity, and we've looked at a number of hacks or workarounds to get passed those behaviors.
In this post I want to share a few more insights and hacks for our habits that, I hope, will help you further. Continue Reading…