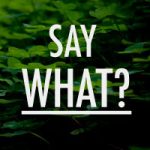 I like to keep a list of words that are used incorrectly; here are a few. You might want to jot these down and collect them as you discover them over time. I'll be sharing batches of these from time to time so it's good to keep a notebook handy.
Accost. The word has no reference to physical contact. It means to approach and speak to someone in an abrupt or challenging manner.
Decimate. Writers often misuse this word, which has its root in deci, or ten. The original meaning was "to kill one in ten." This meaning faded over time, but its true use now is to cause a great loss of life or to destroy a large part of something. It never means to complete annihilate (use that word instead, if that's your intent).
Enormity. This word is almost always confused with enormousness, and the problem is that enormity means a monstrous, vicious, immoral act—a very negative connotation. So if you say something like "I was overwhelmed with the enormity of arranging my daughter's wedding" you would be tainting the event in a way that you might not want. Lots of people make this mistake. I believe it was used in Obama's inaugural address, and he wasn't talking about some monstrous evil.
You might feel that if everyone is using a word incorrectly, and the accepted meaning of a word has changed and is now accepted in society to mean something different, then it's fine to use it incorrectly. Well, being a copyeditor and a handler of words, my feeling is no, we shouldn't. Garner's wonderful reference book  Garner's Modern American Usage (which I use a lot) rates words and phrases (on a scale of one to five) as to how accepted they have become with their "new" usage. Some words have fully changed so that they mean something much different from their original meaning. This happens all the time and is part and parcel of the way language evolves, and that's to be expected. But until a word reaches "stage five," which means it's wholly acceptable, it's best to use the word in its original or traditional sense. Using a dictionary like Merriam-Webster's Collegiate 11th Edition will also help you discern whether you are using a word correctly. I love having that dictionary loaded on my computer and on my task bar. I keep it open all day as I work and refer to it often. You might try it and like it.