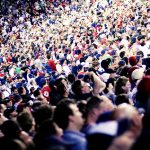 I've been talking recently about eBook publishing and why it is exploding and overtaking traditional publishing.
Why am I bringing out all this information about eBooks? Am I trying to tell you to turn your back on traditional publishing? No, not at all. But in order for us authors to plan a strategy in order to write for life, we need to see the trends. And the eBook trend is only one factor (albeit a huge one) in the shifting publishing paradigm.
I would like to tell you there is an even more powerful shift that will and already does affect you as a career author, one you've probably heard about as it applies to other industries and parts of society but now sees its great need in the world of authors who write with passion and commitment.
And that is the power of community (or tribe, as author Seth Godin calls it) to create movement, change, and impact. And rather than aim to sell a book in the millions just to turn a modest profit, I'd like to challenge you to think a little differently about success.
1,000 True Fans
Techy Kevin Kelly posted on his Technium website a few years back his theory about 1,000 true fans. Here's what he says:
A creator, such as an artist, musician, photographer, craftsperson, performer, animator, designer, videomaker, or author—in other words, anyone producing works of art—needs to acquire only 1,000 True Fans to make a living.
A True Fan is defined as someone who will purchase anything and everything you produce. They will drive 200 miles to see you sing. . . . They have a Google Alert set for your name. They bookmark the eBay page where your out-of-print editions show up. They come to your openings. They have you sign their copies. They buy the T-shirt, and the mug, and the hat. They can't wait till you issue your next work. They are true fans.
Assume conservatively that your True Fans will each spend one day's wages per year in support of what you do. That "one-day wage" is an average, because of course your truest fans will spend a lot more than that. Let's peg that per diem each True Fan spends at $100 per year. If you have 1,000 fans that sums up to $100,000 per year, which minus some modest expenses, is a living for most folks.
One thousand is a feasible number. You could count to 1,000. If you added one fan a day, it would take only three years. True Fanship is doable. Pleasing a True Fan is pleasurable, and invigorating. It rewards the artist to remain true, to focus on the unique aspects of their work, the qualities that True Fans appreciate.
True Fans Speak to Our Hearts
These are some of the points Kelly makes—a radical but practical and attractive concept that went ballistically viral in 2008 when he presented this idea. What I love about his concept, and what has made me a true fan of his concept, is the way it really hits my heart and speaks to the heart of why I write. Sure, I want to make some money at my writing—who doesn't? But I didn't become a novelist for that reason. And I'm thinking you didn't either.
There is little more satisfying to an author than to have a true fan e-mail her, message her on Facebook, post an online book review on Goodreads, or tweet on Twitter about how much she loved the author's book. I love it when I see a fan posting about a new book of mine, gushing about prior books I've written, and urging one and all to read my books. What else—really, be honest—do you want ? Isn't this the ultimate reward we yearn for when putting a book out in the world to be read?
Be Honest—What More Do You Want?
And if you could gradually grow true fans like this over time—fans who tell their friends about your book and promote you enthusiastically—what more do you really want? Will large royalty checks be as rewarding?
Well, maybe for some. And there's no denying we all have bills to pay, children who need braces, a desire to take a vacation somewhere nice from time to time. But is that why you really write? I'm going to bet the answer—in your heart of hearts—is really no. and if that's the case, keep listening.
We are going to delve into more about 1,000 fans in the next blog post and start exploring ways to get to that benchmark—not alone but within a community of other authors.
What are your thoughts on this? Feel free to share your ideas and experiences about supportive community as we pursue this topic this month.