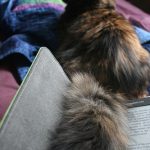 Since we're about halfway into 2012, I thought it would be interesting to look at some of the eBook statistics (and ereader stats) coming out. Christopher Maselli, on his blog in May, gave a pretty exciting list of statistics that should confirm that eBooks are not only here to stay but are gaining strength. To look at his sources, which he lists quite specifically (which is great), take a look at the original post he did did on Ebooks, Amazon Kindle, and Apple iPad. But I've listed here the stats I find particularly interesting (and exciting):
Ebook sales grew 177% last year.
53% of those who buy eBook readers state that they now read more books than they did before. (This is a good thing, right?)
51% of eReader owners increased their purchases of eBooks in the past year.
176% Increase in US electronic-book sales in 2009.
86% of eReader owners read on their device more than once a week.
51% of eReader owners read on their device on a daily basis. (Wow!)
eReaders are now owned by 1 in 10 Americans. 12% of Americans plan to buy one within 6 months. (Another wow to me!)
The average Amazon customer buys 3.3x as many books after buying a Kindle than before they had one.
One out of five people who buy digital books from the Kindle store don't own a Kindle device. (i.e., 20% of sales are on iPads, etc.)
iPad controls 16% of the eReader market and rising.
iPad sales are expected to be 15.6 million this year and 46 million next year.
Interesting demographics here:
iPad users: 65% male, 63% under 35, 39% make more than $80k.
Kindle users: 52% male, 47% under 35, 44% make more than $80k.
iPads and Kindles will be available through Best Buy, Staples, Target, Walmart (iPad only) and other retailers by year's end.
44% prefer Kindle on the iPad over the iBookstore.
One author who sells eBooks stated she sold 6,315 titles through Amazon, while iBookstore only sold 16 copies. I know a goodly number of very successful eBook authors (meaning they regularly take in a net of five figures a month on their eBook sales). Every one of them has told me most, if not all, their sales come through Amazon, and specifically due to the KDP (Kindle Direct Publishing) Select. This is a program I've been dabbling with the last few months. The strategy, according to some of these authors, is to offer your eBook for free for 2-3 days (you're allowed a total of five free days over a 90-day period) in order to blast your book to the top of Amazon's categories, like top #100 free Kindle books, or top in a genre. Last month, for example, my mystery/suspense novel Innocent Little Crimes was offered free for three days. I had about 10,000 free downloads and got in the top 50 free Kindle books for a day and the top five in mystery/suspense. These authors then say the days following are when they sell and make their riches. The exposure of getting in the top lists, along with the benefit of your book showing up on other book pages with that nifty recommendation line that says "Readers who bought this book also bought these . . ." provide some pretty strong exposure, which over months and years leads to sales.
EBooks Have Long Shelf Life
As anyone in marketing and advertising will tell you, repeated name recognition and casting a wide net of coverage is the best way to sell something. I've heard it takes having someone hear your name or the name of your product 5-10 times in order for a potential customer to consider buying what you have to sell. I'm sure there are different schools of thought on this, but it makes sense. One author told me that she blasts her books month after month and often gets readers telling her "I've seen your books for months, and I finally bought one." What's great about having your novels as eBooks is the infinite shelf life, which I've mentioned before. You can build your readers over time without some publisher dangling the threat over your head–that if you don't sell big within the first 4-6 weeks, they will pull your title, stop promoting it, and stick it in the backlist or even ditch it altogether. This takes the pressure off authors in a big way. If it takes you two years to get to that five-figure-a-month income, then no problem. Just keep writing great books and keep promoting. This is what I'm doing, and I am interested in seeing how this works for the four indie eBooks I have up, as opposed to the sales I get with my (currently) five traditionally published novels (that I am also promoting as best I can). Of course, getting 70% profit off my eBooks is a lot more attractive than the meager 7-13% I get from my sales through my publishers, and that, I believe, is the main reason many authors are jumping ship and going indie.
I'll be sharing more stats, articles, and observations throughout the year, so feel free to share links of interesting articles you've read on the topic and share your own indie publishing stats, if you want to.