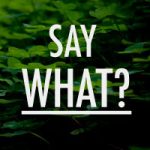 I think the most errors I see when editing manuscripts have to do with hyphenation. In an earlier post, I gave a link to the latest CMOS Hyphenation Chart, and you can download it again here. I refer to it a lot since there are so many diverse rules! Many of the rules deal with modifying a noun (putting an adjective or compound adjective before the noun), as shown in some examples below.
Here are some basic and common usages of hyphenated style:
My sixteen-year-old is taking ballet classes from a seventy-year-old woman.
He's wearing a dark-green coat and a blue-gray sweater. [But you would say, "His coat is dark green."]
It's a black-and-white photo. [But you would say, "The truth is black and white."]
I'm taking a fiction-writing workshop.
This is cutting-edge technology. [But you would say, "This tech is cutting edge."]
I'm working a twelve-hour-a-day schedule. [But you would say, "I'm working a twelve-hour day."]
This book is a nineteenth-century romance with twenty-first-century dialog.
A lot of words we tend to hyphenate should be one closed-up word, so check both the handy hyphenation chart and Merriam-Webster's Collegiate Dictionary, 11th Edition (which is the secondary authority below CMOS).