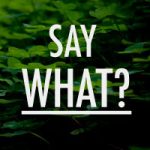 Well, we all speak in redundancies and think nothing of it. Really–how many of us say "close proximity" or "major breakthrough"? (Is there any such thing as a minor breakthrough? Maybe.) Part of writing efficiently and concisely involves catching redundant or superfluous words that are really not needed. Here are some groups of words where either one or the other will suffice alone:
adequate enough
paramount importance
past history (unless you're into sci-fi or some branch of quantum mechanics and want to distinguish from future history)
plan in advance
serious danger (funny to me)
total annihilation
trained professional
want in advance
joint cooperation
final outcome
eliminate altogether
Can you think of some? Maybe if we become aware of these we can get rid of some of these unnecessary habitual customs.