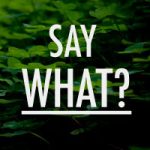 Those dreaded commas. I think commas cause more confusion than any other bit of punctuation. Writers either overuse them or don't use them enough or properly. So I will be going over numerous comma rules over the weeks to help you get a handle on those slippery things.
Material quoted in the form of dialogue or from text is traditionally introduced with a comma. If a quotation is introduced by that, whether, or a similar conjunction, no comma is needed.
It was Thoreau who wrote, "One generation abandons the enterprises of another like stranded vessels."
She replied, "I hope you aren't referring to us."
Was it your mother who used to say that "a penny saved is a penny earned"?
You are now wondering whether "to speak now or forever hold your peace."
Last year I posted about speaker tags and using commas to separate the speaker from the speech, but as a reminder, you cannot "sigh," "cough," "frown," or "nod" speech. It is incorrect to write: "I'm tired," she sighed. You can write: "I'm tired," she said with a sigh" or "I'm tired." She sighed.