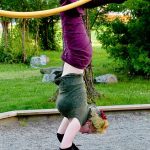 Procrastinate. What a funny word. Its roots come from words in Latin that mean tomorrow and forward. In other words, why do today what you can put off till tomorrow. Maybe you are engaging in a bit of procrastination right now, when you told yourself this is your writing time. Perhaps you were surfing the net hoping for inspiration or direction with a troubling scene you are trying to write, but then got distracted by this blog post title. But I'm glad you stopped in so we can take a look at procrastination. Hopefully, I'll give you some pointers that will redirect your attention back to where you'd hoped it would go.
Gone Are the Days …
We live in such a distracting world these days. Too much information running through our brains (so goes one of my favorite Police songs). Gone are those halcyon days of rocking on the front porch, sipping lemonade, the big event of the day being the mail delivery. The phone was in the house, so if it rang, you didn't really have to get up and answer it. Not like today, with our cell phones like an appendage we can't live without. How did we get here? Did you ever imagine one day you would go into apoplexy if you weren't "connected" to your tribe for more than a few minutes?
We've allowed distraction to be part of our lives. Few people have the discipline or the desire to discipline themselves to focus and concentrate for more than a few minutes at a time. Sure, some of us have jobs where we have to focus or we'll get fired. But during our personal time, off the clock and away from watching eyes, we let go of the reins. We allow media and life to pull our attention in a myriad of directions. Sometimes we feel like a kid at a carnival, with all those bright, shiny, noisy, exciting things clamoring for our attention.
But I Really Need My Cell Phone
One of the reasons I go backpacking in the summer is to force myself to cut out as many distractions from modern life as possible. Before cell phones, no problem. I could successfully cut that umbilical cord and actually relax, be here now, and enjoy the creation around me. But now . . . I get four bars and 4G at the top of a mountain, and I'm sometimes dealing with cover design decisions with my publisher or confirming editing appointments while sweating up the hill. And forgetting to see the beauty around me.
And now . . . I just ordered a solar cell phone charger. Heck, yeah. So I can strap it to my backpack, where it will charge all day, so I can recharge my cell phone in the middle of nowhere. I really need that phone, right? In case of an emergency. Or to use the cool GPS and compass apps I have. And to take photos of the stunning wildflowers. And to play my iTunes library of great "hiking music." All this enhances my joy and feeling of security. But will I resist checking my e-mail and dropping in on Facebook? Do I have the discipline to draw the line and tune out the world. Not.
Where Has All the Willpower Gone?
This isn't to say it's a bad thing to be connected. Not at all. But the problem comes in when we let the distracting world encroach when we are trying to get some writing done. Willpower is a virtue of past generations, but we today don't seem to respect it. Or believe it's possible. So much food around us and it's hard to say no, to diet. We tell ourselves we need to exercise, but just can't find the time. Maybe some feel willpower is overrated, but I feel we need to put it back up on that pedestal. We need to view self-control and discipline as virtuous and something to strive for.
But, wait! My favorite show is about to air. I'll think about this more tomorrow. Scarlett O'Hara had it right. And so did Mark Twain, who wrote: "Never put off till tomorrow what you can do the day after tomorrow."
Next week, however, I will give some tips on how to avoid procrastination. But in the meantime, instead of getting back to writing, share some ways you procrastinate and what distracts you.
Featured Photo Credit: Foxtongue via Compfight cc