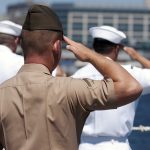 Today's guest post is by authors J. R. Olson and David Bruns:
As long as there's been a military, there have been authors writing about the military. It's a natural fit. The military provides the perfect combination of conflict and character, adversary and attitude. Some novels, like Joseph Heller's Catch-22, seek to satirize war and the military, while others, such as Steven Spielberg's Saving Private Ryan, offer a more serious view of the battlefield. Whether your literary goal is to honor or skewer the armed forces, nothing bothers military veterans more than when well-meaning authors make factual errors about simple military customs.
We're a pair of US Navy veterans with a combined thirty-five years of service who blog and write under the moniker The Two Navy Guys. We're here to dish out the truth about 7 common mistakes we see from authors writing about the military:
The Wrong Uniform: Military people don't wake up and decide which uniform to wear—they are told what to wear. Each branch of the US armed forces (Marine Corps, Navy, Coast Guard, Army, and Air Force) has distinctive uniforms that change with the climate and the working conditions, as well as strict regulations about how and when they are worn.
For example, when David was stationed on board a submarine, the underway uniform was a blue jumpsuit with a belt to hold a radiation-monitoring device, but we never wore those uniforms in port, and they are not worn on US Navy surface ships.
Before you write a scene in which your main character shows up at the Pentagon dressed in desert camouflage fatigues in the middle of December, ask a veteran what your character should be wearing for such an occasion.
Use of First Names: Spielberg got this one right in Saving Private Ryan. In every exchange, Captain Miller (Tom Hanks) calls Master Sergeant Horvath (Tom Sizemore) by his rank: "Sergeant Horvath." It's an understood truth in the US Army that once someone makes sergeant, you call them "sergeant" regardless what rank of sergeant they have earned, except when someone achieves the rank of sergeant major. Then you call them "Sergeant Major"—always. Other services have their own idiosyncrasies; take the time to learn the lingo, and you'll have happy readers.
Spielberg also adhered to an age-old tradition of officers and enlisted personnel never addressing each other by their first names, except under very specific circumstances. In the one case when Miller and Horvath have a conversation on a first-name basis, it is done privately, out of earshot of the other men in the squad, as they discuss options for their mission to find Private Ryan. This was an accurate depiction of the bond that is built between military professionals of officer and senior enlisted rank once they have known each other for a very long time.
Among officers of differing rank, the rules are slightly different. When we were serving aboard ship as junior officers, our captain sometimes used our first names at a meal, but we always responded with "Captain" or "sir" in reply. However, in a professional setting, like on the bridge, the captain always addressed us by our rank.
Salutes: Nothing is more iconic than a military salute and nothing more galling to a veteran when you get it wrong. To make matters worse, the rules can seem puzzling to outsiders. Here are some guidelines to get you started:
Salutes are rendered to senior officers of any service by junior officers and enlisted personnel. Enlisted men and women do not salute each other. There is nothing more idiotic than when a senior person salutes someone junior to her. You might feel it's a touching gesture, but you've just lost your military readers.
Saluting customs vary by service. In the Navy, we don't wear a "cover" or hat indoors, and we don't salute uncovered. The Army and the Air Force can salute uncovered, but normally do not salute indoors unless reporting to a superior officer. Of course, all these rules can be altered for special situations, like boot camp, ceremonies, or when acting in an official capacity, such as a duty officer.
Know Your Hardware: Ask any editor who works with military novels and they'll tell you the number one mistake they see in manuscripts is inaccurate details about weapons. Military readers love their hardware—and can get pretty upset when you're not accurate. Not sure if the Glock has an external safety? A simple Google search will tell you the answer is no.
It's not just safeties and ammo sizes either. Your readers expect the weapons to be used correctly as well. Your character is not going to fire a shoulder-launched missile from inside a helo without the exhaust blast cooking all his squad mates behind him (sorry, Rambo).
Too Much Military Equipment: Take the film Independence Day, an entertaining alien-invasion flick that includes a climactic scene in which the US fights back. But when the Marine Corps F/A-18 Hornets attack the alien space ship over LA, the film depicted about twice as many Hornets as have existed on the entire West Coast—ever!
It would have been one thing to create a mix of Marine Corps, Navy, and Air Force combat jets all massed for an attack on something the size of a city, but when you deliberately specify a single service, a little homework would have made it more "believable." Yeah, we know, it's a science fiction movie with aliens, and we're arguing about making things realistic. Think of it this way: you can make your science fiction or fantasy novel even better if you do a little homework.
Military Operations: Bunching troops together in a combat zone is a great way to make sure your characters can have witty banter, but the reality is that massed troops are easier to kill. Troops in the field, especially in a combat zone, will spread out—a lot! They will maintain eye contact with the men around them, and more often than not use hand signals to communicate.
Remember, weapons today are accurate out to hundreds of yards, which means you can provide effective supporting fire to your comrades from a distance. A recent movie that used the hand gestures and military tactics well was Lone Survivor. Director Peter Berg took great pains to ensure the technical accuracy in the operational behavior of his four protagonists, and that made the movie stand out as a great example of proper movement in enemy terrain. If you are an author writing a combat scene, take the time to make it authentic.
Operational Security: We've just spent this entire blog post scolding you to get things right, and now we're going to tell you to do the opposite. When we were writing Weapons of Mass Deception, we had a few instances when we knew the operational capabilities of certain military units, and we deliberately chose to dial it back. In our view, getting hand signals and saluting details right is a far cry from divulging specific tactics.
We hardly think a nuclear terrorist is going to use our novel as a handbook to attack the US, but we also know that people make connections in all sorts of ways. In WWII, the slogan was "loose lips sink ships," and in our view, it still applies today. That juicy intelligence detail that your Army friend told you? Make sure it's necessary for your story before you use it.
There you have it—seven ways to make your military characters more authentic along with our own thoughts on operational security. The best rule of all: when in doubt, ask a veteran. You'll find the men and women of any service more than willing to share their experiences. Trust me, all of us will be glad you got it right.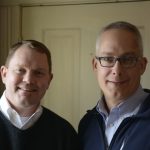 The Two Navy Guys are J. R. Olson and David Bruns, both graduates of the US Naval Academy and US Navy veterans. Check out their coauthored military thriller about modern-day nuclear terrorism, Weapons of Mass Deception, here. Visit their blog, Two Navy Guys and a Novel, which shares the trials and tribulations of cowriting and self-publishing.
Feature Photo Credit: Hammerin Man via Compfight cc