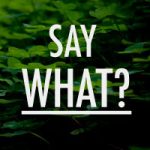 Here are some phrases or sentence constructions I come across often in my editing. Although they're common, it's good to pay attention to these expressions and make sure they make sense. We should strive to make sense in our writing, right?
"I don't know whether I should go to the movies." Whether or what?
"He took a different way home." Different from what?
"It's a quality paper." What kind of quality? Bad or good?
When using a word that calls for comparing one thing to another, you need to make clear what those two things are. Here's another common expression: "I could care less." What in the world does that mean? Nothing, really. The correct expression is "I couldn't care less." Which means you care very little about something. That's an expression that makes a point. But it's also a cliche, and you want to avoid cliches unless it fits in with a character's personality and POV. But maybe you couldn't care less.