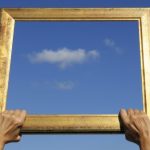 We're taking a close look in these first posts on novel construction at the four main corner pillars. To recap briefly, I'm introducing twelve key pillars writers must construct to build a great novel in any genre. The corner pillars are not only the most important, they must work together, and my experience has shown me that if I work on all four of these pillars at one time, fleshing them in bit by bit until they are solid, I can be satisfied that the framework of my "house" will hold up.
After those four are in place, the other eight can be developed and fashioned to fit into the framework. Just as when building a house, tasks need to be done in order. You can't put on the roof or wire the house if you haven't put up walls. And walls can't go up without appropriate framework.
So Just What Is a Kicker, Anyway?
I spoke a little last week about the first pillar: a concept with a kicker. I explained that ideas are a dime a dozen, and plenty of great ideas fail to make great novels. Why? Because ideas or concepts have to have a kicker. I might be so bold as to say that you could take just about any idea, even if it's pretty lame, and turn it into a terrific concept if you come up with a great kicker.
So what is a kicker? Just to be clear here: a kicker isn't the same thing as a plot twist. Plot twists are "kickers" in their own right—meaning they are surprising turns or reveals in a story, and, as such, they "kick" the plot into high gear. Some novels have a great plot twist at the end, like Jodi Picoult's best seller My Sister's Keeper. The plot twist was so intense and unexpected, it caused a lot of emotion on the part of many readers. I thought it was a terrific twist, but some of my friends hated it. Without doing a spoiler here, Picoult masterfully created a shocking ending to this very heavy drama.
Yet, the twisty ending wasn't the kicker. A novel can't ride four hundred pages on a kicker in the last chapter. And likewise—if you have a plot twist early on in the book and it's just a simple plot twist, it won't give the novel "legs" to last the entire read.
Plot Twists Are Not "Concept Kickers"
This makes me think of the blockbuster movie The Planet of the Apes. Do you recall the great twist/surprise kicker at the end, where Commander Taylor (Charlton Heston) finds the half-buried Statue of Liberty and realizes, to his horror, that he is on Earth and not some other planet? That's a great moment. But if the movie failed to have a great concept with a kicker all the way through, no one would have stayed in the theater long enough to see that ending.
What is the concept with a kicker for that movie? I would say it is something like this: "An astronaut lands on a planet run by intelligent apes who enslave humans, who are the unintelligent animals. Taylor's intelligence threatens to destroy the apes' entire way of life and worldview, and so they will do whatever they must to stop him from reaching his goal [which is to escape]." The movie as a whole is not about the twist at the end; it's about the problem created by the situation and what the hero must do to remedy it and reach his goal.
The secret of the apes' past is an important plot element in the movie that drives the story and tension, but it's not the core of the concept.
In a similar way, the concept and kicker for The Sixth Sense is not wrapped up in the fact that Dr. Malcolm Crowe realizes, to his shock, that he is actually dead. That is a brilliant plot twist, and certainly is foundational to the plot. But just what makes that movie so compelling—all the way up until we actually see the scene where Malcolm has his moment of realization?
The story concept has a great kicker. It's about a therapist racked by the guilt of failure and seeking personal redemption through helping a very disturbed boy who "sees dead people." He thinks that by helping young Cole he will find peace (his goal), and by using his skills as a therapist, he succeeds in both reaching his goal and in helping "cure" Cole. The playing out  of this concept is fascinating, and even without the twist, would be a strong story.
Writer/director Shyamalan uses a similar technique with Unbreakable and Signs. Both of these movies also have great plot twists near the end, but the concept for each has a great kicker that supports the whole story. Both are about rich characters driven by extreme need and passion and going after a specific goal, while facing tough inner and outer conflict along the way. Being a very character-driven writer, I find the most successful element in stories like these are the characters and their goals, whose core needs and passions are intrinsically woven into the concept of the story. Underneath all are intense themes with a heart. And often the inner conflict has higher stakes than the outer ones, but conflict is found in spades.
Which is the point I'm trying to get across in these opening posts. Concept cannot be just about plot. A great concept for a novel can't hold up if it's just a good idea or an interesting premise. It has to have the support of the three other corner pillars. That's when the concept gets kicked into high gear with a kicker.
Next week, we'll take one last long look at this first pillar, and then you'll get your first inspection checklist!
Share your thoughts here. Can you think of other movies or novels that have a great twist at the end? If so, think about what the concept with a kicker is for the entire story, and see if you can identify what makes it great.