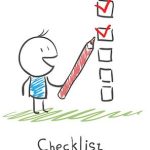 Are you a "list" person? I sure am. Even though I have software programs like Sticky Notes to help me make my many (countless) lists, I still find myself scribbling notes to myself: Things to do today (before I breathe) . . .
Those of us who depend on lists as if they're lifelines to sanity understand the "list mentality."
Life is busy and distracting, especially in this tech age in which a gazillion things are vying for our attention. It's hard to keep track of our schedules, kids, keys, glasses—you name it.
In order to write a terrific novel, we have to organize so many things. Novels aren't just a compilation of characters, plot elements, and themes.
Those are just a few of the many components making up a novel. And, as I mentioned in an earlier blast, novels aren't a result of throwing a bunch of ingredients in a bowl and stirring.
It's so important to have a blueprint, some framework to use to direct our efforts in a logical manner.
I've seen way too many aspiring novelists wing it and come up with garbage. I don't mean to be harsh here, but that's the truth.
I believe that the reason so many writers struggle to get that novel done, why they procrastinate so much, lose interest in their project, get writer's block, or give up is due to lack of truly understanding novel structure.
If you are trying to build a house and have no clue how to read the blueprints (or you don't have any blueprints), and you also have a pile of tools at your feet that you don't know how to use (watch out that you don't shoot nails into your hand with that nail gun!), and you've never built a house before, how far do you think you'll get before giving up? Would you even get started?
I don't know why so many aspiring novelists try to write a novel without having a clue about novel structure. Saying "I've read a ton of books, so I'm sure I could write one" is like saying "I've lived in a house, so I'm sure I could build one."
Not.
Structure is everything. That novel writing is complex, and you have to understand how to use the tools to build those strong pillars that support a story.
I spent months putting The 12 Key Pillars of Novel Construction Workbook together. I tried to think of every question I could (Socratic method in mind) to help writers drill deep into their characters, plot, themes, setting . . . all the elements of story.
Inspection Checklists Will Help!
In addition to all the many brainstorming questions for each of the twelve pillars, I created inspection checklists (which are also listed in distilled form in The 12 Key Pillars of Novel Construction book).
I'd been on the job site with my builder husband many times when the inspector came to, well, inspect something. He'd hold his clipboard and run through the list of items he needed to check off before giving my husband a "pass" and allowing him to move on to the next stage of building.
Inspections are a good thing. Some builders are dishonest or inexperienced. They might do shoddy work that could cause structural problems down the line. They might even create dangerous situations that could cause injury or loss of life.
None of us wants to move into a house whose roof will collapse on us and crush us while we sleep in our beds.
The purpose of the checklists in the workbook is to help you examine what you've built so far to see if you're doing a good job. It's one thing to read how to do something. It's another to do it and then have help to ensure you did it right.
So the workbook questions are a kind of self-test you can perform to check your work.
You may not be a list person. Maybe it's easy for you to keep all your "to-do" items sorted in your brain. If so, more power to you! But I still feel you'll benefit from the checklists in The 12 Key Pillars Workbook.
I'd like to encourage you—especially if you are a first-time novelist—to consider taking my mini video course on the 4 Essential Pillars of Novel Structure. This course covers the first four corner pillars and really helps you see why they're so important to build and how you can build them.
The course is only $49 and has hours of fun slides and thoughtful insights into these pillars. While it's essentially the material in the Pillars book, it also includes things like movie clips to drive home the points.
So check it out HERE.
With the course, the book, and the workbook, you have all the materials and checklists you need to build a strong novel. If you want personal help, purchase the course package that includes my critique of your four key pillars worksheets AND a one-hour phone or Skype consultation to discuss your corner pillars.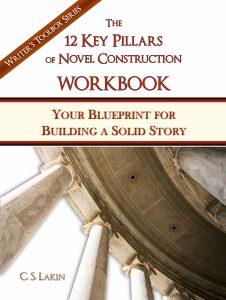 I honestly believe that if you get only one writing craft book in your life to help you learn how to write a novel, The 12 Key Pillars of Novel Construction is the best choice. And I'm not saying that just because I wrote it. I wrote it because I spent thirty years learning all I could about novel writing, and I crammed as much of that knowledge as I could into that book in as clear and concise a way as I could. All to help you fast-track to success!
And if you haven't purchased the workbook yet (in print only), get a copy HERE.
Here's to checklists that are good for our novel-writing health!