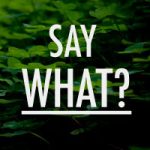 Wondering when to use a question mark? The answer is simple. When you expect an answer. Yet, I continually see writers getting "question mark happy" and sticking these bits of punctuation where they have no business being.
Direct questions—the kind journalists ask to get a story—demand an answer. They are often referred to as the 5 (or 6) W's: who, what, when, where, why, and how.
What happened? Who was involved? When did it happen? Where? Why? How? Direct questions almost always begin with some variation of the 5 W's. If one of these isn't the first word in the sentence, it's probably in there some place, like: "Well, just what are you doing in there?" or "Just who do you think you are?"
Sentences that begin with a being verb like are, is, were, and the like also indicate a direction question.
Are you going to Scarborough Fair?
Is anyone going with you?
May I come along?
All these questions demand an answer and a question mark.
And now to complicate things, just a little. We also pose indirect questions, but we don't expect answers to these questions.
I wondered why he went in there.
I asked her what the problem was.
Sometimes writers prefer not to have question marks following rhetorical questions (a matter of choice):
No one really expects an answer to a question like that. And neither do these indirect questions require question marks.
Got it?