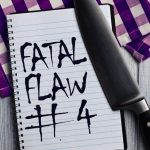 This week editor Robin Patchen tackles Fatal Flaw #4—Too Much Backstory. In this month's posts, we've been looking at the pitfalls of dumping backstory into our scenes and showing ways writers might creatively introduce important information pertaining to a character's past or necessary to understand the world of the story. If you've missed the first posts on this fatal flaw, read them here and here.
This month, we've been studying how to weave backstory into your novels. You've learned not to stick a bunch of backstory in your dialog, and you've learned to start your stories in medias res—in the middle of things. Today we're going to tackle the subject of backstory in action scenes.
When you start your story in the middle of the action, you need to give your reader a bit of information about who your characters are. The key is to slip that information into the scene in a way that feels organic. When your scene has high action, sometimes that can be even more difficult.
Hold that thought, Mr. Prowler—we've got some backstory to cover. 
Many writers fight the temptation to tell the reader everything they think they need to know up front. They figure the more readers know about a character, the more that character will resonate. But all that backstory just slows the action down. Tell the reader just enough for the scene to make sense. You can fill in the blanks later.
Before:
I pulled my gun from its holster and disengaged the safety as I ran across the yard to the barn. Whoever was in there had left the door slightly open, and I could hear banging coming from inside. The prowler was in there right now.
He wouldn't get away this time.
I peeked through that narrow space. It was dark, but the scent of old furniture and stale hay reminded me of Reagan McAdams, the granddaughter of the woman who'd lived on this property since she'd inherited the house from her parents a couple of generations before. Reagan was my closest friend from the time we were in diapers. Our mothers were best friends, so we saw each other all the time. We went to elementary school together, then middle school and high school. When we were fifteen, I kissed her, and we were together until she left for college. After a misunderstanding caused by our mutual friend Suzy, who'd told Rae that she and I had kissed, Rae left for college and never came back. I hadn't seen her since.
After I returned from my tour in Afghanistan, where I served as an MP, and then my years on the Boston Police Department, Reagan's grandmother, Dorothy McAdams, and I became close. Dorothy died two weeks ago, but before her death, she reported a few instances of prowlers. Peeking inside the barn, I thought the prowlers must be back. Dorothy had lived here alone, and Rae was her only heir. And Rae hadn't even come home for the funeral.
I stepped into the barn, my heart thumping. I had to be silent if I wanted to catch him. The barn was dark, the only light coming from a flashlight beam I saw bouncing around in the far corner. The space was filled with furniture and old junk. I stepped around a chest of drawers and nearly bumped into a long buffet table. It used to be in the dining room, but Reagan's mother had scratched it once when she'd been in one of her manic moods, before she'd kidnapped the baby and been sent to prison. Reagan still blamed herself for that, but what else could she do when her mother brought home a baby that wasn't hers? Reagan had only been eleven at the time. She couldn't have known her mother would die behind bars.
I wondered what the prowler was looking for. Dorothy had told me there was nothing valuable hidden on the property. Just all this old junk. The prowler hadn't stolen anything, as far as Dorothy could tell.
I rounded the corner and saw a woman standing behind a desk. I aimed my gun. "Put your hands where I can see them, and turn around slowly."
The main lights blinked on. Then she turned around.
It was Reagan.
Action at the Speed of Glaciers 
That was supposed to be an action scene, but did you feel your heart pumping? Your adrenaline kicking in? Me neither. All that backstory slowed the action down.
No police officer is creeping into a dark barn in the middle of the night, gun at the ready, thinking about the historical details of an ex-girlfriend's life. He might think about that ex—it was her home, after all. But at that moment, he would be focused on two things—catching the prowlers and staying safe. Let's see what that would look like.
After:
I inched my way inside the barn. I'd been in here enough over the years to know only a fool would rush through this place in the dark without a flashlight.
Something banged. Nobody who had the nerve to break into Dorothy's place would get away with it on my watch. Dorothy had done too much for me over the years. The house would belong to Rae now, not that she'd want it. She hadn't even made it home for the funeral. But for Dorothy, I'd take good care of this property.
The sound of shuffling, muttering, and then a loud "Ouch." I felt my way past an old wardrobe and peeked around the last corner. One person. A slight form. Probably a woman. Alone. I had her cornered.
I lifted my pistol and pointed. "Police. Put your hands—"
The person startled, and the overhead lights flickered on. I squinted and aimed my weapon. "Stop. Hands in the air."
Her hands jolted away from what I thought was the barn's fuse box. The woman turned and zeroed in on me. Hands in the air, she tilted her head to the side. "Brady?"
I blinked twice. The voice came straight out of the past. I hadn't seen that face in twelve years.
"Are you going to shoot me," she said, "or can I put my hands down?"
I pointed my pistol at the floor and engaged the safety without taking my eyes off of her.
Reagan McAdams looked even better than she had in high school.
The second selection clues us in on just a few details about this police offer and the woman in the barn. They used to know each other, they went to high school together, and she's been gone a long time. We also know he cared about her grandmother, who has recently died, enough to enter a dark barn with his gun raised in order to catch a prowler. It's not all the information we had in the Before section. It's just enough. We have an entire novel's worth of pages to fill in the rest of those blanks.
When you're writing your scenes and you need to add some backstory, don't try to fit in as much as you can. Instead, slide in as little as you can and still have the scene make sense. Try to make the backstory you do add organic—things this point of view character would think at this time and in this situation. Trust your readers to be patient and learn the rest in due time.
Your turn:
What bits of backstory bothers you in action scenes? How much do you want to know in order to follow and enjoy the scene?