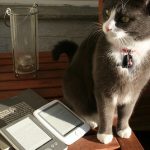 Today's guest post is by Penny C. Sansevieri, Founder and CEO Author Marketing Experts, and best-selling author:
Now that Amazon is allowing preorders, I see a lot of authors jumping on the preorder bandwagon, and while that's great, there's a lot to consider before you do this. First, if you aren't familiar with the Amazon preorder, let me explain how it works.
In a minute, I'll take you through the steps to get your book into preorder, but first let's look at when and how this may benefit you.
First off, you need to be a KDP (Kindle Direct Publishing) author. On Amazon's KDP/Preorder information page, they say that preorder is great to start building buzz and, true, it is. Though, there is one caveat to this. Over the years I've found that preorders aren't as effective if you have no fan base, and even then it's iffy.
So what's the real benefit to the preorder? Well, let's break this down.
First Time Published Author: If you're a newly published author, the idea of a preorder probably seems exciting, right? Your book is up on the Amazon site as time ticks down to its release. And while it seems exciting, it's not advisable to spend a ton of marketing time on the book because you can't get reviews (though there is a workaround for that), but using this to build a fan base may not be the best idea. 
Building a fan base takes time, often months, and for some authors, years. So you can put the book up, let family and friends know, and maybe even start playing with categories and keywords to see what spikes the book and what does not, so you'll be ready to go on launch day. Aside from that, I'd be pretty low-key about it.
Already Published Author: If you have a book out there (or several), and you've built a mailing list of fans, then preorder may be a fun thing to do to build excitement for your upcoming book. 
I would still caution that the lion's share of your work should only begin when the book is actually ready for purchase. Why? Because unless you are some mega-bestselling author, it's hard to drive significant numbers to a preorder page.
The other issue is immediacy. If a reader wants something now, they may not want to wait for your book to be ready and will, instead, buy another Amazon-recommended book. Also, this is another reason to keep your preorder time short—which I'll explain next.
Timing of Your Preorder: Though I know there are folks who are fans of long preorders, I am not one of them. Amazon allows you up to ninety days, but when I've done this, I have found that a month is just about right. That way you can promote it to family, friends, and even your e-mail list, and still build some momentum for it without spending a ton of time pushing a book that no one can read. 
The other reason for this is that you need to be sure to hit the deadline you assign to the preorder, because once you select it (as we'll see in a minute), you can't go back. So pick a date that you know you can hit.
Promoting a Preorder: Along the lines of what we discussed earlier, I would share this with your followers and your e-mail or newsletter list. If this is your second, third, or fourth book, the interest is going to be stronger than if it's your first. But even a newbie author should not be discouraged from pushing this to folks who know you to let them know it's coming. You can do this through images, blog posts, Facebook posts, and Twitter updates.
Getting Reviews for Your Preorder: While you can't review a preorder book, you can encourage readers to review it on Goodreads (getting early reviews there is never a bad idea). However, if you really want to populate your Amazon page with early reviews, you might consider keeping only your ebook in preorder and putting up a print book that is "live" on Amazon. Since the books are linked, you'll be able to get reviews on the print book, which will also show up on the ebook too.
Pricing Your Preorder: For reasons I mentioned earlier, I would keep your pricing low— even if you plan on raising it later. Why? Well, you're competing with millions of titles on Amazon and your book isn't ready (yet), so the immediacy isn't there. If you want to entice an impulse buy, keep the pricing lower at first, then once the book is live, you can always raise it.
How to Set Up Your Preorder: First, in order to do this, you need to be a KDP author, so your ebook should be uploaded into the KDP system via their back-end dashboard. Once you're in there, you'll see this: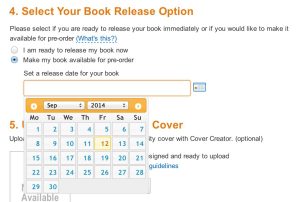 Once you select a date, the system will tell you that you must get the final book to Amazon no later than ten days prior. When you set this up, you will need to upload a manuscript for them to approve before they'll confirm your preorder.
It doesn't matter if this manuscript has been edited—they just want to see what you plan to publish. You'll need a cover, but when I spoke to an Amazon rep she told me that it doesn't have to be final, so if you're still a month out with no cover (that happens more than you think), then you can leave it blank or put up a placeholder for now and go back in and add it later.
According to Amazon, the book can be any length, so if you've written a novella, you can use this too. Right now there are no limitations on this other than you need to be a KDP author, and, clearly, this is for ebooks only right now.
So preorder is great and fun and certainly a cool thing that self-published authors can do, but just be mindful of how much of your promotional dollars you spend this early on. While it's a great thing to do, most readers will prefer to buy a book they can get right away.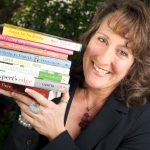 Penny C. Sansevieri, Founder and CEO Author Marketing Experts, Inc., is a best-selling author and internationally recognized book marketing and media relations expert. She is the author of fourteen books, including How to Sell Your Books by the Truckload on Amazon and Red Hot Internet Publicity, which has been called the "leading guide to everything Internet."
AME was the first book marketing and publicity firm to use Internet promotion to its full impact through The Virtual Author Tour™, which strategically harnesses social networking sites, Twitter, blogs, book videos, and relevant sites in order to push an author's message into the online community. AME has had over eleven books top best-seller lists, including those of the New York Times, USA Today, and the Wall Street Journal.
To learn more about Penny's books or her promotional services, you can visit her website at www.amarketingexpert.com
Feature Photo Credit: Eirik Newth via Compfight cc
---
Want to learn how to target genre to sell big?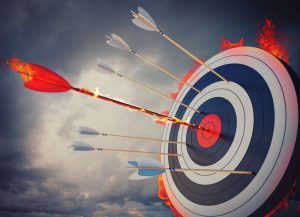 With 4,000+ ebooks published every day, you need every advantage to get discovered. Instead of writing a book and hoping it will somehow come up in the search results when a potential customer types in words in the search bar on Amazon, you'll have the best chance at topping those lists if you write to genre.
What does that mean? It means identifying a very specific audience for a specific type of book. If you write a mystery and only list it as "mystery" in your description and keywords, you are competing against hundreds of thousands of other novels. But if you search out a niche genre that sells well and doesn't have as much competition, you have an edge.
Part of targeting genre requires accurately identifying these successful niche genres. But another important factor is learning how to write to that genre. How to study other books that are selling big and emulate their structure and style, as well as use the best keywords in your promotions to get your book to fit in the slots right alongside those best sellers.
There's a lot to know to do this well, but it's not hard.
I floundered for decades trying to sell my many novels that didn't specifically fit a niche genre. Then, when I decided to write to genre, I went from selling a few copies a month to thousands. With hardly any marketing and using a pen name no one heard of.
You can do it too!
But there's a strategy to this. And steps you need to take to ensure your novel will have the best chance at discoverability.
I've made it easy for you!
Don't waste time trying to get your novels to sell. Be smart and treat your novels as products designed for specific consumers with specific needs. Once you learn to write to genre and target genre, it will be a game changer!
Enroll now and start gearing up to sell big. Isn't it time you experienced the success you dream of? Your audience is waiting to discover your books!