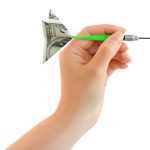 This month, with the launch of my highly anticipated online course, I've been directing your attention to the need to understand and target genre.
Why is this important? Because all too often writers work hard to pen a novel without any thought to genre. Sure, they might know they're writing a mystery or a fantasy novel, but they haven't thought of the end goal—which is to get that book in the hands (or onto the ereader device) of the audience they are writing for.
When asked "Who is your audience? Who are you writing this book for?" many writers really don't know. Sure, they hope those mystery lovers will love their book. But if those writers haven't done their homework and studied iconic novels in that genre, their books aren't going to quite fit. Kind of like Cinderella's stepsisters trying to force that tiny glass slipper onto their big fat feet.
Why is this a problem? Because, as I mentioned in last week's post, you're creating a product and hoping that product meets reader expectations. If you target a wide audience by labeling your novel merely as "mystery," you're generalizing, and hence competing with hundreds of thousands of other books.
For best success, you don't want to cast a wide net (and get tangled with all the other thousands of nets out there). You want to narrow your aim and target a niche readership hungry for a certain type of story. Sure, you might pull in other readers in the process, but the more you narrow in on a niche audience, the better chance you have for bigger sales.
Right, it's not all about sales. But, face it—if your books sell well and get rave reviews from your targeted readership, word will spread. More readers will find and love your books. And that's what every writer wants—a happy, satisfied audience.
And the best way to learn to target a niche genre is to deconstruct books in that genre.
So, What's Deconstructing All About?
I often encourage my clients who are struggling with nailing their genre to highlight or underline (in the novels they "deconstruct") elements they are struggling with, such as the way backstory is infused into present action, the way emotion is revealed by showing rather than telling, how dialog is distilled and compressed.
I assumed aspiring writers did this kind of homework, but it appears few actually do. Sure, they've read some books in their targeted genre, but they haven't studied hard. For writers who take their careers seriously, it is essential to take a lot of time to break down others' novels and pick them apart to understand why they work. Not plagiarize—analyze.
By drawing from a number of different best-selling authors in the genre you want to nail, you will see some similarities and some differences. It's important to note both, for every author should have her own unique voice and writing style, and showcase original ideas. By taking notes as you go through each novel carefully, you can compare these books and see what they share in common.
Here are some ways you can get a feel for the way authors write in your niche genre:
Make a chart listing ten best-selling novels in the genre you want to write in. If you haven't done your homework, spend time sifting through the best-sellers in your target genre and reading their descriptions, hopefully using KDSPY, and pick ten novels that really fit the genre and are the most similar to the book you have in mind writing. These novels don't have to have similar plots or settings, but they should be written in perfect style for the genre.
Using a huge piece of tag board and writing small will allow you to see the big picture once you are done. List the titles down the left side and make a grid: a row for each title, and vertical lines separating all the elements you want to make observations about.
Across the top of the columns, list the elements you want to compare. How extensive the chart is your call. You may only want to analyze a few things. Maybe many.
Some might be chapter length, number of POV characters (or what POV the novel is written in, such as first person present tense or shifting third person), balance of dialog to narrative to action, what happens in the opening chapter (or you could choose the first three scenes, one column for each), how quickly and in what manner conflict is introduced, the sophistication or simplicity of the writing itself, sentence length, type of scene ending (hanging, thoughtful, etc.)
Note how much description is used for characters and setting. In one of your columns, write a 1-sentence summary of the plot. What's being set up in that opening scene that screams "genre"?
What you want to notice is not just the way the story is told and unfolds but also the mechanics of the storytelling, which involves things like sentence length and type of verbs and adjectives used. Some genres use very short sentences and simple vocabulary. Some are predominantly dialog—short, crisp lines as opposed to long convoluted conversations.
Once you have filled in your chart, spend some time studying it. See what similarities there are, what differences. See what screams "genre" to you. Readers of genres expect a certain type of writing style, pacing, tone, and plot concept. For instance, some murder mysteries always begin with a dead body in the opening scene. If you are targeting those readers, you better have a dead body too.
Just an Exercise, Not a Magic Formula
This exercise is not a cure-all for a weak plot and concept, but it's meant to help you get a feel for nailing your genre.
By taking time to deconstruct a number of other novels all the way from the opening scene to the end, you will start to see the range of variety within your genre.
When looking at the entire novel, you would also pay close attention to the premise as well as the character and plot arcs.
The Objective Is to Meet Readers' Expectations. When you write and publish a novel, you are producing a commodity, a product. You are targeting a specific consumer that has certain expectations. Your book cover and description are a promise to your reader that your story is going to meet their expectations. The closer you can get to meeting those expectations, the happier your readers are going to be. If you are not honest with your "sales pitch," readers will feel cheated and disappointed. Will they buy your next novel? I think not.
Targeting Genre for Big Sales shows you step by step how to search out niche genres that sell well but have manageable competition, how to deconstruct novels in your genre, and how to optimize all your marketing elements so your book will have every chance of being discovered when a potential customer searches for a book like yours.
I've extended the discount date, so if you enroll by March 31, you can get $100 off the regular price by using the coupon code LIVEWRITETHRIVE. CLICK HERE to enroll!
Don't put off your success any longer. With my 30-day money-back guarantee, you have nothing to lose!
Here's to making 2016 the year you see big sales!