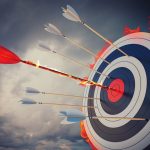 I've made it my objective this year to help all my readers and clients and author friends see success in 2016. Why? Because it's hard to thrive as a writer. I've spent thirty years navigating these waters, and have made a lot of mistakes.
Mistakes I don't want you to make!
Publishing success is getting harder all the time. Despite the ease of self-publishing, there's a glut of ebooks. More than four thousand new ebooks get published each day!
It took me a few years to figure out the best ways to get discovered and sell big. Without selling out. And I'm going to share more of what I learned for free on April 25th!
My free webinar, How Novelists Can Target Genre for Big Sales without Selling Out, is open for enrollment!
This presentation will give you an hour of great tips on how to write, tweak, and publish your novel for best success, and I'll be answering all your pressing questions about why understanding and targeting genre is the key to success in self-publishing.
All too often writers pen a great novel, but despite tremendous effort and utilizing top marketing strategies, their books languish in obscurity.
How can self-publishing authors get their books to top the best-seller and search results lists?
By using a two-fold strategy that focuses on finding a high-demand low-competition niche genre and then writing and designing novels to fit that genre perfectly.
This webinar will cover these four key points:
1. Understanding what genre is and how Amazon interprets your book's genre
2. How to find a niche genre that has high demand but manageable competition
3. How to deconstruct books in your genre to know how to write to fit in and sell well
4. How to optimize your Amazon product page for discoverability.
Learning the strategies of these four key aspects of targeting genre will give writers the best chance at discoverability and big sales.
Don't waste years trying to figure out the secret to discoverability. Join in the webinar and learn how to apply these strategies today!
Who Should Attend?
Writers who are working on a first draft or have finished writing a novel or more
Writers who are interested in self-publishing or have already self-published
Writers who want to learn ways to get their books to rank at the tops of the search results
Writers who want to learn the secrets to promoting their books on Amazon
Writers who are interested in successfully strategizing their novel series
Writers who don't want to waste months or years trying to figure out how to get discovered
Writers who want to know how to find genres that sell big but have manageable competition
Fiction and nonfiction writers who self-publish!
Here are the details:
Date: Monday, April 25, 2016
Time: 3pm PT | 4pm MT | 5pm CT | 6pm ET
How: Special Free Webinar!
This webinar is hosted by author and writing coach Beth Barany at The Writer's Fun Zone. Come join us and get your questions answered!
Space is limited, so sign up early, and show up early.