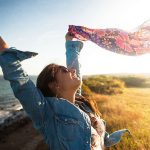 The protagonist's transformational journey is highlighted in countless stories, whether novels, movies, or plays. If you take time to examine some of your favorite stories, you should be able to identify key scenes or moments in which this transformation gradually takes place. It's the events that transpire that erode the persona and emphasize to the character that living in that identity isn't working.
People don't change overnight; it's a process. And when we write a story, we want that process to be believable. While there are six stages in the process, you might have a dozen or more scenes in which your character's beliefs, opinions, and biases are challenged, one bit at a time.
What Theme Really Is
Keep in mind this truth: the theme of your story is your character's inner motivation made universal. What drives him, what plagues him, what consumes him is what propels him toward the visible goal.
These key transformational scenes with your protagonist are the ones that will shine a light on the themes of your story.
Consider the movie Hostiles, which I explored in another post. The title itself implies the theme and poses the moral dilemma Capt. Blocker faces. Who truly is the hostile?
The question Blocker asks himself, essentially, is this: "How am I all that different from those I hate?" In asking that question, consciously or subconsciously, the theme is brought to the forefront. Continue Reading…