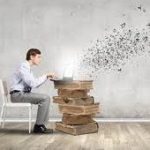 At the end of every year, I blog about planning. The new year is looming on the horizon, and to many it feels like the chance at a fresh start. We can say good riddance to 2020—for so many reasons, to be sure. But I also hope you spent some time writing and improving your writing chops.
Some people have been too busy and stressed to focus on their writing, but my hope is that in the coming months, space will open up, and the writing will flow.
If writing is more than a hobby for you—or you hope that will be the case this next year—you should already be starting to think about your career strategy. If you don't have my strategic planning guide (you can get it by subscribing to my blog, on the side bar), grab it and start working in it!
Many writers work hard on their marketing plans and book launches, but they haven't taken the time to lay out a vision for the long-term. A career isn't about writing and publishing one book. Though, if that's all you want to do, that's fine.
However, even with one book published, you still want to present yourself as a professional author and build a reader base and get notoriety and great sales. Who know? Maybe if your book generates a lot of interest, it may inspire you to write more books. I hope so! Continue Reading…