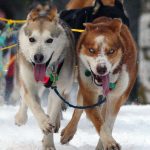 I mentioned I have a desire for a new type of writing community—what I would call Writing for Your Life. I picked that title because it reminds me of Running for Your Life—which is all about survival, exhaustion, and endurance. And sometimes the writing life feels like a grueling marathon race with no end in sight.
Or maybe there's an end in sight with lots of  confetti, ribbons, and trophies—but only a few seem to be making it toward that receding finish line. For you, it's like a mirage in the desert that keeps moving away the closer you try to get to it. And you just keep running and looking off in the distance where those few wildly successful authors are eating up the accolades and smiling in the bright lights of stardom. It can sometimes make you despair and want to quit.
If You Can't Not Write
But another reason I chose that title—Writing for Your Life—is to help us realize writing, for many of us authors, is not a short-term goal or series of goals.  We write because we have to, because we can't not write. It makes me think of what one writing instructor and prolific author said: "Don't ask yourself if you have a book inside you—ask if you have a writer inside you."
What he meant by that (if it's not obvious enough) is that if you see yourself as a writer for life—if this isn't just a temporary state of mind or career but a way you function as you go through life, a lens you wear through which to see yourself and the world and a vehicle by which you express yourself to the world—then you need a plan for life. A methodology or worldview or perspective—whatever you want to call it—that can help you find joy in the journey despite outward and traditional measures of success.
So, the first part of my "big idea" is about getting us to examine our thinking about success—what it looks like and how we think someone achieves it. The old model no longer works, and even those few who find their success based on the old definitions are rarely happy, satisfied, or joyful.
In fact, as Donald Maass notes in his best-selling book the Fire in the Fiction, too many published authors turn bitter, negative, and become frustrated even with steady sales. Why? Because they invested in the old model of success and it's just not working.
Ask yourself these questions:
Why do you write?
Why do you need to write?
How do you define success?
What kind of success do you think you need to achieve to feel you've made it, to feel good about yourself?
What if I told you that perhaps all your answers , all the things you believe about a successful writing career and what will validate your years of hard work, are actually preventing you from having true success? And real joy?
 A Radical Shift in Thinking
There is a truly different way of thinking about writing for life. It may seem scary, ridiculous, even lame. If you're content simmering in your waiting room, frustrated and unfulfilled, why not go through a different door instead of sitting in the dark waiting for a miracle to swoop down and rescue you?
You know the odds of breaking out as a best-selling novelist (more chance of winning the lottery if you look at the number of books being written, submitted, and published each year), but you still think by following the old failing methods that you will achieve success. I hate to remind you but it probably won't happen. So why let that disappointment destroy your joy of writing?
I'm challenging you to step outside your small, cramped dark box and take a new innovative journey toward success by exploring other roads to success. Writing for your Life will first help you by shifting your view on what it means to you to be a writer for life on this rocky road.
We'll explore CRAVE—an acronym of ideas that will help you understand need, motivation, and fear. And then armed with insight, along with a community of fellow authors, we'll step out on the stage to help each other build to 1,000 true fans—for ourselves and each other. I plan to not only introduce you to a thriving community that is already acheiving some great successes for authors but also use one of my novels as a test to see how far a novel can go through savvy promoting, engaging in and cross-promoting via a community, and having a go-get-em positive attitude.
Over this year, I'll be posting about my personal journey with tips, links, and direction for you to chart your own path through the wild waters of publishing. And I am excited because I know there will be some great rewards!
If If If . . .
You can only do so much virally on your own, but with the support of a tribe and clear, practical steps to implement, you can achieve success—the kind that brings you success now—along with joy and a true sense of significance and achievement. You may have heard the saying that "life is a journey not a destination." As actor Kevin Spacey said in an interview:
There is no prize out there. The only prize is this one [pointing to his heart] and what you feel and what you want to accomplish. I watch a lot of young people meandering around without any idea of why they're doing what they're doing. To want—to be ambitious and to want to be successful—is not enough. That's just desire. To know what you want, to understand why you're doing it, to dedicate every breath in your body to achieve . . . If you feel you have something to give, if you feel that your particular talent is worth developing, is worth caring for, then there's nothing you can't achieve.
I believe this with all my heart. And I invite you to embark on a new journey of the heart that will shift the way you view yourself, success, and your creativity. Follow this blog and be ready to learn some great things this year!