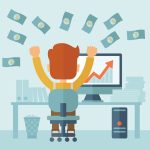 Today's guest post is by Dave Chesson of Kindlepreneur.
2017 was a wild year for authors.
We saw the rise of Amazon's book advertising system, AMS, and the fall of most authors' favorite publishing tool, Pronoun. We've seen more competition in Amazon, and even saw Amazon change some of the ways they do things, like the introduction of KDP print.
If Amazon wasn't enough, Apple has promised to invest more in the book industry and Kobo has partnered up with Walmart, all in an attempt to take on Amazon, the current undesputed book sales champion of the world.
Plain and simple, the landscape is always changing.
That's why it's important for us authors to not only look to the future so as to improve our craft but also look at trends and ways in which we can earn more and thus gain a competitive edge in the new age. Continue Reading…