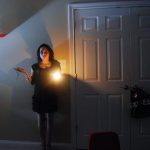 Today's guest post is by Kleia Paluca.
All writers, both beginning and published ones, have something to fear. That's because writing can be a personal ordeal, and everyone has their monsters.
As Hemingway said: "There is nothing to writing. All you do is sit down at a typewriter and bleed."
For many of us writers, there's nothing as terrifying as baring our soul through our writing. We're offering it up for others to pick apart and criticize. It's this kind of lambasting that we writers would do anything to avoid.
You would think that we'd be done with monsters by now. After all, we're not exactly nine years old anymore. But as logical and experienced as we believe ourselves to be, we're still plagued by monsters of a different kind that freeze us in our tracks and prevent us from living life to the fullest.
These monsters are our fears, and we writers have at least one or two of them hiding in our closet. Continue Reading…