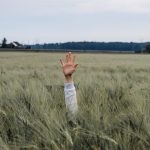 Today's guest post is by Bella Mahaya Carter.
I'm neither unique nor alone in having made mistakes as a writer that have potentially sabotaged my chance at success. I've witnessed these same mistakes among my clients and students.
They aren't limited to writers, nor are they the first things that come to mind when considering mistakes, but I wish I'd had a clearer understanding of them as a young writer. It would have spared me years of heartache and confusion.
Let's dig in to the 5 common mistakes writers make and what can be done to correct them and avoid self-sabotage:
Not believing in yourself
In my twenties, my sister gave me a knickknack: a three-inch-square photo frame of a shooting star with the words "Believe in Yourself." I don't recall the circumstances that prompted her to offer this support—but I imagine it had to do with a fresh writing rejection, or maybe I was thinking of giving up on writing.
I'd revisit that idea every so often, but the thought of giving up writing was excruciating. I could give up success (whatever that meant), but not writing. Never. I needed it like I needed air.
In retrospect, I didn't understand that the disappointments I'd experienced were par for the course. Continue Reading…