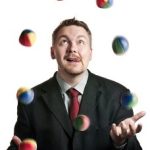 How is that novel-writing going?
One reason writers procrastinate is they haven't taken the time to master the skills. If we attempt to do something—like change the oil in our car or build a bookcase—and we haven't first learned what's needed to attempt such a task, it may cost us a whole lot of wasted time.
Just as with learning anything, you'll do well if you first master, step-by-step, the skills needed. If I have a hankering to build a desk and I don't know the first thing about working with wood, and have never used any of the needed tools, I'm going to flounder.
This really applies to a career as a novelist. I'm stunned by how many writers waste years—many years—floundering around trying to write novels and don't know what they're doing.
Take the time to learn your craft well. Continue Reading…