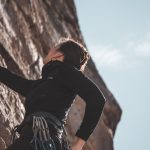 Have you ever asked: "What on earth possessed me to want to be a novelist?" Are you starting to realize this journey of being an author is not a short sprint but a marathon—and often a grueling one at that?
When you hear of the numbers of novels submitted to agents and publishers each year (in the six figures), you sometimes think winning the lottery offers better odds than getting traditionally published. But then . . . you finally break through and get a contract, and months later are holding your brand-new brilliant release in your hand, feeling like you've finally arrived.
Not Even Fifteen Minutes of Fame . . .
Yet . . . if you're like me, the flashbulb moment of that exhilaration lasts a very short time, only to turn into something akin to another stark, depressing realization—that the odds your book will become a huge hit or best seller is . . . well, about the same odds as winning the lottery, and you're back to the same place (or almost the same place emotionally) as you were when you first starting sending out your first queries to agents. Continue Reading…