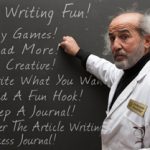 Today's guest post is by Ali Luke. 
How important is your writing to you?
Is that importance reflected in how much time you spend on it?
Pretty much every writer starts out writing without being paid—often without any prospect of payment. This is particularly true for fiction writers, who might well hone their craft for years, even decades, before successfully selling their work.
In fact, for many writers it's not just a case of "not making any money"—it's a case of spending money. Books, courses, conferences, pens, notebooks, software—it all adds up. Continue Reading…