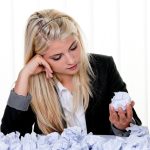 Writing a book is hard. You know it. I know it. There's no hiding from the truth.
So are there days when you don't think you'll ever finish yours?
Maybe you've tried to be productive. Maybe you gave yourself a deadline. But then April got super busy and all of a sudden, you were staring May in the face…without having made any progress.
I understand the frustration more than you know!
Listen…it can be SO easy to let weeks, months, even years go by…without making any progress. Simply because it's such a huge, overwhelming, daunting project. But it doesn't have to be like that. Continue Reading…