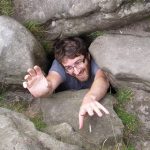 Today's guest post is a fun and helpful infographic by best-selling author Warren Adler. 
I have been lucky as hell making writing a career. But then, one must consider that I did suffer through endless rejections of my work until I was forty-five years old, when I was finally able to interest publishers.
Real writers write because of their artistic need, above all. It is a great and miraculous calling, and its pursuit deserves all of one's energy and imagination. Without a doubt, there are always struggles along the way, so I thought I'd share a few of my own, which I think are universal.
So here are 10 struggles you might face as a writer, but take courage—you're not alone.