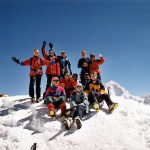 We're going to take a look at success and your concept of it. If you can determine what kind of success you crave, and weigh how important it is to you, you can then set some goals–practical goals–that will help you achieve that sense of success.
I believe it really is possible to feel successful even if your books aren't getting sold or are selling "poorly." And of course, in time, maybe your books will sell in a bigger way that will bring you some great joy.
With the trends in eBook publishing, a good book has a chance of growing in sales and gaining faithful readers over time. Using the concept of 1,000 true fans, a writer can find great satisfaction in interacting with and writing to a core group of devoted readers. I've posted some key thoughts about this in earlier posts, if you want to take a look , but in the meantime, let's take a look at CRAVE.
If You Crave Success
I created this acronym as a tool to look at the way we feel about success. We write because we have
a need to channel our

C

reativity.
a need to

R

each an audience.
a need for a sense of

A

ccomplishment.
a need for

V

alidation.
a need to

E

xpress our heart feelings and/or beliefs.
We all have these basic needs to some degree. But in order to have real joy in our writing, these needs need to be healthy and balanced. If we have such a deep need for validation, if we must have others' approval in order to feel okay with ourselves, then anytime we are not validated (read: rejection letters, unsold novels, bad reviews), we feel terrible.
If it's essential our writing gets to an adoring audience, we will suffer each day we don't have some reader tell us how wonderful our book is (see my story on the writer who couldn't take a bad review). The only way, in my opinion, to find real joy in the writing journey, year after year, is to watch for warning signs that any of these five needs might be getting out of hand and robbing us of joy.
Dangers of Success
We've all seen how success has brought a lot of grief to the lives of famous people like actors and rock stars. Maybe you've wondered why so many famous people are so miserable and messed up. Obviously, there are some dangers to becoming successful. And I think it relates to CRAVE. Once someone gets a taste for adoration, they may find it addicting. That need to reach an audience for a sense of accomplishment and validation becomes an obsession. The initial desire to express their creativity now becomes tainted with the trappings of success–the fame, money, and glamor attached.
I think, for some, their obsession with success causes them to lose their simple joy of creativity–which is where I believe our joy originates. If we can't find joy in the creating process anymore because we are so wrapped up with success, why be creative?
Find Your Priorities and Treasure Them
Of course, there are many successful, even famous, creative people out there who know how to feel joy in what they do. They've found a way to keep centered and keep their priorities straight. They don't let success go to their head or contaminate their heart.
I am not knocking worldly success. I hope every one of you who dreams of "making it" as an author sees those dreams realized, just as I hope my lofty dreams are realized one day. But in the meantime, we have to thrive in the place we live, and right now that might not look at all like success. For many aspiring writers, it looks a whole lot like failure.
Adjust Expectations to Mine Your Joy Each Day
It took me twenty-three years to get published (from the completion of my first novel and getting an agent until I was offered a publishing contract). So I consider myself an expert on feelings of failure. Now I'm in that stage of trying to build readership and audience and realizing I'm not going to be an overnight success. I've had to shift my attitude and adjust my expectations to redefine my definition of success and to examine what I need to validate my sense of self-worth. I am still working on this and believe it, like writing, is a lifetime journey.
If you're finding you are too often frustrated, depressed, feeling like a failure, you might want to look at how you crave success and try to shift your thinking. I wrote some posts on how aiming for 1,000 true fans is truly the way to go, and it's a doable goal. When you have some time, if you missed those posts, go back and read them. Here's the article Kevin Kelly wrote a few years back, and I encourage you to read about his concept of true, satisfying success. It's a better way.