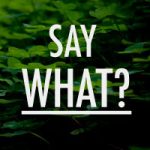 Apostrophes seem to give people a hard time. I'm not sure why. I have to restrain myself when I see (which is often) an incorrect use of apostrophes on restaurant signs and in menus. Why they are so common there, I'm not sure, but it's a good thing for all writers to memorize these rules—and they're not hard.
What is wrong with the sentences below?
• He was selling chocolates to the participant's.
• The Milky Way's were a better choice.
• Vast majority of people have TV's .
• They were a well-known group in the 1960's.
Answer: The apostrophe is incorrectly used in place of a plural. It should be participants, Ways, TVs, and 1960s.
There are two uses for the apostrophe—in shortened forms, indicating a verb added after the apostrophe (it's, couldn't) and in possessives (It's George's house).
What should we do when a possessive is also a plural?
• The participants' job was to choose between two options.
• My sisters' room (meaning more than one sister. If you only have one sister, it's just sister's.)
• My parents' house ( but if you are speaking of only one parent, it would be "my parent's house.")
Here the participant is a plural and a possessive, so you place the apostrophe after the s. If the participant was singular, you would place it before the s.
Another big error I see is in pluralizing single names that end with s. Yes, it does look a bit funny, but these are correct:
• Robert Burns's poetry
• Jesus's sermons
• Bill Jones's job
• The Joneses' house (meaning a house belonging to more than one Jones—a couple or family, for example. Remember the expression : "Keeping up with the Joneses." And because "Joneses" is plural, not singular, you just use the apostrophe, like "the Smiths' house.")
• Jess's car
• James's family but The Jameses (the whole family). And again, the Jameses' house.
I hope this will help you stay out of trouble with the Grammar Joneses!