Okay, I confess. I've never quite understood the use of the word arc when talking about plot and character. I keep picturing a big boat in a very heavy rainstorm. But seriously, even the image of an arc (shaped like a rainbow–which brings us back to the other ark . . . hmm) confuses me. For if you are creating a character arc showing some sort of progression of a character's inner growth through your novel as a bow that goes up and then comes down, it feels to me as if the character didn't go anywhere. So I have trouble using that term.
A Journey, Not an Arc
However, I am concerned with character growth, and it's a big, essential part of your story to take your protagonist on a journey (hopefully one of the heart) that starts in one places and ends up in another. Just as a literal journey can take us to new places where we see new things, so, too, a character taken on an inner journey should end up seeing new things about herself. (I have an easier time talking about this growth process in terms of journey instead of geometry terms; I wasn't all that great in math).  So here's another thing I find helpful when creating characters and working out the growth they're going to experience by the end of the book.
Persona to Essence
Remember from earlier posts how the character will start in his persona (the face he presents the world) and eventually discover and embrace his true essence (if you missed those posts, you may want to refer back). I've critiqued manuscripts in which the character has a set view of the world and in one scene, because of a few things someone says to him, he completely changes and becomes a new man. That's just not believable, people. Having your character change as events affect him happens over time. And so once you have your basic plot all worked out, you can parallel it with your character's inner journey. This ties in with the MDQ (major dramatic query) for, if you recall the posts, your character has to not only arrive at his plot goal by the end of the book, he has to arrive at his spiritual goal as well, and that implies inner change.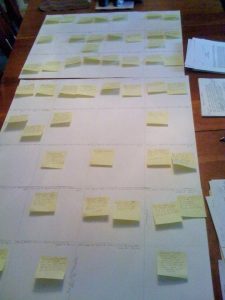 I use large charts and create something akin to a Gantt chart (a timeline, basically) for my plot (this photo shows the plot charts for Intended for Harm). I often do so with my characters. In fact, for Intended for Harm I also made a big chart with each character on a timeline with the vertical lies bisecting, denoting years (I had to cover forty years), and the horizontal lines for the characters. This chart was specifically for the character journey, the spiritual MDQ process (yes, all your main characters should grow and change). Post-It notes (a blurb for each scene) work great on large charts since you can move them around, by the way. I make sure to keep it out of range from my cats, who are great at dislodging the notes if I lay the charts flat on the table (as shown).
At the start of the timeline I have a note regarding the character's persona at the start of the story. At the end I have a note about where they'll be spiritually at the end–in their true essence, or at least indicating they're getting there. There's no rule that says your protagonist has to reach her goal. Remember, the MDQ asks a question like "Will Indie Jones retrieve the Ark of the Covenant at the end of the movie?" (Hmm, another ark . . .) The answer might be no. Same with your character's spiritual goal. She may not come into her true essence by the end of the book. But unless you want a completely Postmodern hopeless ending, you'll want to show some glimpse that she's on her way, which often is more believable than having her fully arrive by the last page.
Gradual Does It
Once I have the first and last notes in place, I think of all the stages of change my character will go through. I might jot a scene down in a sentence stating something that happens to her or that she sees that will shift her view. Be sure to note just how her view gets shifted. I mentioned in an earlier post how you have to change characters in stages, starting with their opinions and attitudes and eventually changing their core beliefs, which can sometimes take a lifetime (not for you to do this, but I mean the character's lifetime, just to be clear here). Having an idea of concrete scenes that can facilitate or instigate these gradual changes will make your character's journey believable. Okay, go ahead and call it an arc. Whatever.
This week, think about your novel's plot. If you are far along or in the revision stage, this is a great time to make a chart, write some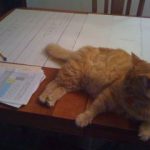 sticky notes, and put them on the timeline in order (and if you have a disruptive kitty like I do, be sure that once they are in the right place you number them or somehow mark where they go in case of demolition). See where the holes are. You may need to either write or rework a scene so you can show a bit of change. Always keep in mind that you are moving toward your character going from persona to essence, but you do want some setbacks and backsliding. Usually close to the end your character will fall back into the person they were before because it's safe and they're ready to give up. So put that on your chart too!