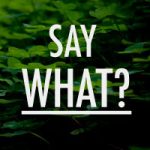 This is a comma rule that I wasn't even sure of myself and had to look up! I've seen it handled many different ways in manuscripts, but here's what Chicago Manual of Style says: Questions are sometimes included within another sentence either directly or indirectly—not as a quotation but as part of the sentence as a whole. A direct question (unless it comes at the beginning of a sentence) is usually introduced by a comma. A direct question may take an initial capital letter if it is relatively long or has internal punctuation.
 Suddenly he asked himself, where am I headed?
The question on everyone's mind was, how are we going to tell her?
Legislators had to be asking themselves, Can the fund be used for the current emergency, or must it remain dedicated to its original purpose?
If the result seems awkward, rephrase as an indirect question. An indirect question does not require a question mark, nor does it need to be set off with a comma. Indirect questions are never capitalized (except at the beginning of a sentence). Here are ways to rephrase:
Suddenly he asked himself where he was headed.
The question of how to tell her was on everyone's mind.
Ursula wondered why her watch had stopped ticking.
Where to find a reliable clock is the question of the hour.
And don't put a question mark at the end of these sentences just because the word question is in there or a question is implied. I'm amazed at how many sentences I come across with question marks at the end and the sentence is not a question!