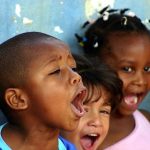 Last week we began looking at the topic of "voice" in a novel as the 10th pillar of novel construction, and I pointed out that there is a lot of confusion and disagreement regarding this term. So I'm going to give you my take on the topic, and I think it will end the confusion.
Voice is all about characters—not about you!
There, I said it. It's so simple, really. Every character in your novel has his or her own voice, whether a child, a man or woman, a dog, or a robot. Every POV character in your novel has a unique voice—both internally, in the way they think, as well as in their audible speech.
Voice Isn't Just Speech
In addition, any character that speaks out loud (not a POV character) has a voice as well. I don't mean literally here—for of course they have a voice if they can speak (and if they use sign language, that's speech too). But what we're talking about pertains to the manner, style, and presentation of that speech. With these characters, their voice comes out only in the words they actually say and how they're said—since the writer is not going into their heads.
With POV characters, voice embodies more than spoken words or direct thoughts in their heads. The narrative should as well. When you craft a scene in a character's POV, every line in that scene has to feel as though it is being processed, chewed, and spit out by that character. Everything that happens in that scene is witnessed, experienced, felt, and reacted to by that character. And so, even the narrative must have "voice."
Narrative Must Be Shaped by Voice
Think about writing a scene in the POV of a six-year-old girl who is a spoiled, rich only child. Let's say the scene takes place at the dinner table, and while she is eating, her parents get in an argument about money, and the father says she will not be allowed to take ballet anymore, and then smacks her precious puppy when it tries to get a piece of meat from off the table.
That narrative must sound like a six-year-old rich spoiled girl's voice. She is going to notice, react, and think her age. She isn't going to comment on the details of her parents' argument. She's going to be confused and upset as to why she can't take ballet, and she's going to be mad and scared when her father hits her dog. She will not use an adult vocabulary or think obtusely, abstractly, or using metaphor. The reader should feel and wholly believe she is experiencing and reacting to all that happens in the scene (and there should be a good reason to use her as a POV character too).
All too often I find, in the novels I edit and critique, scenes in a character's POV that does not have the appropriate voice. Children sound like adults. Old women sound like young men. So much goes into voice: education, background, past pain, fears, likes and dislikes, opinions, personality traits, ethnicity, and so on. Just like dialog. In fact, if you can think of voice as just an extension of dialog—as the POV character speaking through the entire narrative of the scene—it may help you to get a handle on voice.
Getting into Character
One thing that helps me with voice is to pretend I'm the character. I try to immerse myself so much into the role as I'm writing the scene that I am that character. This is what actors do—they get into character. Some actors say that when they're shooting a movie, they stay in character all the time—even when they leave the set and go home for the night.
Which makes me think of a funny bit on one of the CDs for The Lord of the Rings, that showed director Peter Jackson's amazement when he heard actor Brad Dourif (Wormtongue) speak in an American Southern drawl, thinking the actor was just joking around (he wasn't; that was his "real" voice). In the films, Dourif's character has a kind of rich British accent. Clearly, Dourif stayed "in character" while not filming, which no doubt helped him do such a terrific job in creating the voice of Wormtongue. And here, too, I'm not just talking about his accent. That voice went deep into character, shown through his inflection, mannerisms, facial expressions, and tone. All this relates to voice.
Voice Isn't Just How Someone Sounds
So as you richly develop all the characters in your novel—and we've looked at many ways in many posts on how to do this with both your protagonist and your secondary characters—be sure to spend a good amount of time on voice. Not just thinking about how the character sounds when she talks out loud but how who she is shapes and determines her mind-set—what and how she thinks about things.
In order to construct a strong novel, those character pillars must be made of unique, believable characters. By spending time giving those characters a rich past and a core need, greatest fear, a lie they believe, you will have characters that jump off the page. But . . . if you do not give them the appropriate voice, those pillars will crumble.
As I mentioned in the example above of the six-year-old girl—if you, the author, intrude in the scene by narrating or showing a character thinking in a style that does not fit who she is, the reader will notice. Yes, it's a challenge to write every word in every scene in POV, but that's required with either a first-, second-, or third-person POV. And this is one of the biggest flaws I see in novels.
What about an Omniscient POV?
If you are going to use an omniscient voice to tell the story, you can slip in and out of  voices as you portray the different characters, and in addition, you have the narrator's omniscient storytelling voice over all (which must be developed in the same way as any other character's voice). Not many writers can pull off an omniscient voice well, and the downside and challenge to using such a voice is its tendency to distance the reader and tell the story rather than show it. And as most of us have been taught, readers these days don't want to be told stories; they want to see them happening before their eyes, through the eyes of the POV characters.
So think of voice as each character's voice: unique and specific for each one. The writing style of a scene will be influenced and shaped by that voice, but there is more to writing style than just that—which we'll start exploring in next week's post.
Don't forget to download your new checklist (below)! Each checklist is designed to help you examine the pillars of your novel to see if they are constructed well and will "hold up" your story.
What are your thoughts about the "character voice"? What is your biggest challenge in getting into character and conveying strong, unique voices in your novel?
Inspection Checklists:
Inspection Checklist 1-concept with a kicker
Inspection Checklist 2-protagonist with a goal
Inspection Checklist 3-conflict with high stakes
Inspection Checklist 4-theme with a heart
Inspection Checklist 5-Plots and Subplots in a String of Scenes
Inspection Checklist 6-Secondary Characters with Their Own Needs
Inspection Checklist 7-Setting with a Purpose
Inspection Checklist 8-Tension Ramped to the Max
Inspection Checklist 9-Dialog Compressed and Essential
Inspection Checklist 10-Voice Unique for Each Character
Photo Credit: still searching… via Compfight cc