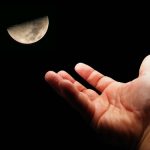 Do you want to write a compelling story? Think of the word compel. Merriam-Webster's Collegiate Dictionary has a great definition: "to drive or urge forcefully; to cause to do or occur by overwhelming pressure."
Have you ever read a novel that drove you forcefully to turn page after page? That caused you, by overwhelming pressure, to neglect your chores, your dinner, your kids, in order to get to that last page to see how the book ended? If that's the kind of novel you want to build, then you need to be sure all the elements of your story work together for one main purpose. What purpose?
You Gotta Have Goal
To follow your protagonist as he strives to reach a goal. Huh? Does that sound too pat to you? I imagine it does, to many writers—especially beginners. Of course, this is just my opinion, and you're welcome to disagree with me (although plenty of writing instructors would be nodding their heads enthusiastically), but the key to a compelling novel is constructing a story in which the hero or heroine is chasing after a goal.
I've written many posts on this in the past (you can read some of them here, here, and here), and I could write an entire year-long course just on this topic. In fact, we just covered the first of twelve key pillars in the last few posts—concept with a kicker—and that topic as well could be discussed for a year. But we have twelve pillars to cover in twelve months, so we're plowing ahead.
In setting up this series, I introduced the twelve key pillars of novel construction. We briefly touched on the need to first focus on the four essential corner pillars—concept with a kicker, protagonist with a goal, theme with a heart, and conflict with high stakes. We're going to delve now into the important aspects to creating a compelling protagonist and how this goal of his or hers is the linchpin of the four supportive pillars.
If you don't know what a linchpin is, it's a pin that holds all the parts together. Without it, whatever you are building will fall apart, collapse. If you write a novel without a protagonist who is after a goal, your novel will fall flat. Yes, I will be so bold as to say that is the absolute truth.
Well, What Kind of Goal?
A visible one. Yep. That's the first requirement. Screenwriting consultant Michael Hauge really nails this down in his workshops and best-selling book Writing Screenplays That Sell. Your goal for your main character can't be nebulous, like "she wants to find love in the end." She needs a very specific goal readers can picture. You should be able to describe your hero's goal to someone in a way that they can see it played out in their mind as if on the silver screen. Why is this important?
Because your novel is a specific story about specific characters needing and wanting something specific. There is no novel without characters. And if the characters don't have any goals, then what is the point to your story? Characters have to have deep core needs, desires, secret fears, impossible dreams. These are the factors that drive the story, like fuel for an engine. Hauge claims there are five basic goals (see another post I wrote on this that goes into more detail):
The need to win (competition, the love of another, etc.)
The need to stop (someone, something bad from happening, etc.)
The need to escape
The need to deliver (a message, one's self, an item, etc.)
The need to retrieve—(a magic ring, a hidden or lost treasure, a lost love, etc.)
This may seem so simplistic, it might be hard to believe. And maybe you think it doesn't even need to be discussed, since it's so obvious. But . . . few novels that I critique and edit actually portray a protagonist with a clear goal.
A Great Novel Is Not Just a String of Events
Without that goal set up in the beginning of your book and which the protagonist strives for until the end, all you have is a string of events. Scenes one after the other in which stuff happens—sometimes interesting, sometimes boring. But if there is no goal established at the outset for the hero, then these scenes serve no purpose and have no point. They frequently meander around like lost sheep. They lack power and fail to stir up interest. In short, they are not compelling.
Does there have to be a point to the novel? Yes. If you can't think of "the point" of your novel, just what are you writing about? Oh, yeah. You have an idea. A cool idea. Well, what have you learned about ideas in these last few posts? Don't remember? (Here they are, if you need to refresh your memory.) Ideas are a dime a dozen. Ideas do not a great novel make. I think I need some T-shirts made up with these slogans. We writers should drill these truths into our minds.
Every Story Features a Protagonist with a Goal
Let me just say this: If you have a great idea for a novel, and have come up with a compelling concept with a kicker, and it doesn't include a protagonist with a visible goal, I would sure like to hear about it! I have yet to ever read, in my entire life, a great novel that did not have a protagonist pursuing a goal. Maybe with a literary masterpiece that goal is subtle and not so visible. But I will venture to say it's there, perhaps buried under the beautiful writing.
Ask yourself about your favorite novel or two: What did the hero or heroine of the story want? What was she striving after? Did the climax and ending of the book show her either reaching her goal or failing to reach it? More than likely.
So, today we're just dipping our toes in here regarding the protagonist of your novel. We'll go more in depth next week.
And, as I introduced last week, here is your Inspection Checklist 1-concept with a kicker, consisting of twelve (groups of) questions you must answer to "pass inspection" regarding your novel's concept. Checklist #1 makes you take a deep look at your concept to make sure it's not just a nice idea. With each of the twelve pillars, you will get a checklist that you can print out and use with every novel you write. If you can answer all the questions satisfactorily (based on what you're learning here in this course), you'll be sure you have sound structural support that will "hold up" your story.
Any thoughts on today's post? Does your protagonist have a goal for the book? Feel free to share some thoughts about that goal in the comments. If your hero doesn't have a goal, spend some time (a lot of time) really thinking through the point of the novel and what your protagonist really wants more than anything else. He has to have a core need and a specific, visible goal. It's a key pillar to strong novel construction!