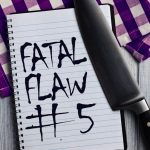 We're wrapping up our look this month into Fatal Flaw #5: POV Violations. And there are many. POV "rules" aren't hard to follow once you understand them. The trick is to keep in mind that when you're in POV, you can only see, think, hear, and feel what through the senses of that one character. Anything that veers out of POV is a violation. 
Today editor Robin Patchen delves into the POV violation involving characters' voices.
Jane Austen's books are all written in the same voice—hers. And we love them. But twenty-first century authors can't write the way Jane Austen did because modern readers have different expectations. Today's readers look for books written from deep point of view, and in deep point of view, not only are author voices different, character voices are too.
Did you ever watch the TV show Frasier? There's a scene where his new girlfriend invites him to go antiquing with her. Kelsey Grammer's character responds, "I'm not one of those people for whom antique is a verb." A funny line, but it tells us something—Frasier Crane's writers knew who he was. Do you know who your characters are? 
Characters Putting On Airs
You create your character from scratch. Before you put pen to paper—or fingers to keyboard—your character is nothing but a figment of your imagination. You assign gender, age, physical characteristics, education, personality, fears, goals, etc.
You also have to give him a voice. And his voice has to make sense for his character. If it doesn't, you'll have a disconnect between the words and the character who's supposed to be thinking and speaking them. This becomes a POV error when characters are thinking and saying things in ways that character would never think or speak.
Consider the speech patterns of a fifteen-year-old girl. Does she use the same vocabulary as her seventy-year-old grandfather? He sees fresh snowflakes and grunts. She sees them and thinks, "Little cotton balls from heaven." He's thinking about shoveling. She's thinking about a snow day. Take two forty-year-old New York City men. They could sound similar, perhaps. But what if one were a Wall Street mogul and the other an immigrant taxi driver? I guarantee they would have very different voices, and neither would describe snowflakes as little cotton balls from heaven.
In the example below, my character is a forty-something, barely literate convicted felon.
BEFORE:
The volunteer from the prison ministry had requested Clyde share his testimony with the other inmates taking part in their on-site program. They'd explained that they felt his story was quite implausible. He had conceded the point. What the Lord had done in his life was beyond anything he could ever have conjured up in his imagination. But like his mentor had said, nothing was impossible with God.
In the prison library, he navigated to his favorite online dictionary, which had become his own personal fount of information. He'd learned more from the dictionary and other reference books than he had in all his years studying under his most learned teachers.
He studied the various definitions until he found the one he assumed the ministry leaders had meant. A public profession of a religious experience. Indeed, he'd had quite a religious experience, and if his story could help others, then he'd be remiss if he didn't share it.
So, did that scream uneducated, blue-collar convict from the rural Ozarks? Clyde doesn't know the meaning of the word implausible. The voice in that selection is so far off the mark, it's laughable. This is a serious POV error, because Clyde couldn't possible have thought the above paragraphs. He doesn't have the education or the vocabulary.
Let's read the same scene rewritten in Clyde's actual voice.
AFTER: 
The ministry wanted him to share his story. It was unbelievable, they said. They was right. He wouldn't have believed it if anybody told him the story. But like his mentor always said, nothing is impossible with God.
A testimony, they called it. Testimony was what people gave in court, after they done sworn to tell the truth, so he was confused, 'cause he didn't have no court dates coming up.
He set in front of the computer in the prison library, clicked to his favorite online dictionary, and typed in the word testimony with his index finger. He wished he could be like that fellow in charge of the library, but of course there weren't no computers where he went to school. No typewriters, neither. They was lucky they had books. He hated prison, but he loved looking at that dictionary. He learned more from there than he ever had in that little dump they called a school back in the woods.
Dictionary had all sorts of definitions for the word testimony. The rocks God inscribed the Ten Commandments on—that was a testimony. A divine decree, whatever that was. He skipped down a few and found the one he figured they meant. A public profession of a religious experience.
Is that what he'd had? A religious experience? In order to get to that, he was going to have to wade through a whole lot of swamp water, and did he really want to go there? He spent three years trying not to think of that terrible day. What good would it do to bring it up again?
But the ministry folks, they said it would help other guys to see there was a way out. And when he asked his mentor, he'd said, "You've discovered something beautiful, Clyde. Don't you want to share it?"
So he was gonna do it, gonna stand up in front of them inmates and tell them all the bad stuff he ever done. 'Cause if God could use somebody like him, well, weren't that somethin'?
I hope you agree that voice makes a little more sense. I've used a bit of hyperbole in my examples. The first is way too highbrow, and the second might be a little exaggerated redneck-speak. But the principle remains. Your characters need to think and talk like they would think and talk in real life.
You might have heard the suggestion to look for photographs on the Internet of how you imagine your characters look and save them, so you can be consistent when you're describing them. Why can't you do the same with their voices? Find someone in the media or on a TV show who sounds like your character, then download an audio or a video clip? When you're getting ready to write a scene from that character's point of view, listen to the clip first. That'll help you stay in character.
However you have to do it, be sure you stay in your character's head and voice when you're writing, because when you don't, you've slipped into a POV violation, and that can be a slippery slope. If you missed the other three posts on POV this month, read them here, here, and here.
Your turn:
What POV violations have you noticed in novels you've read, and which ones bother you the most? Do you find it hard to spot them?