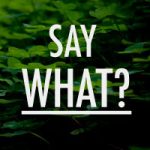 I sometimes hear or read sentences like "He predominately goes to that Starbuck's." That word is a mouthful, and because it sounds so much like predominantly
, it's no surprise the words get mixed up.
While the meanings of the two words are nearly identical, there is a rationale for the differentiation.
Predominate: to hold advantage in numbers or quantity; to exert controlling power or influence
Predominant: having superior strength, influence or authority; being most frequent or common.
Predominate is best used as a verb, though historically it has also been used as an adjective. Predominant, however, is always used as an adjective. Both words are formed from the root dominate, for which verb and adjective usages are clearer.
I trust few of us would stumble over these word choices:
Ranchers' interests dominate the Western Governors Conference agenda.
The dominant concern of the Western Governors Conference is ranching interests.
History is against the critics. Predominate has been recorded as an adjective since 1591. It's true that predominantly is much more common than predominately, as predominant is than predominate. However, there is no difference in sense between the pairs and the other forms aren't wrong, just less often preferred alternatives.
When the adverb is called for, predominantly wins out almost every time, even though both predominate and predominant can be turned into adverbs by adding ly. But predominantly predominates in good usage.