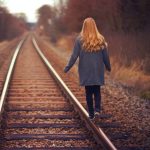 Today's guest post is by author Tori Eldridge.
It's a scary time in the world right now. We've been forced into a new way of living and are concerned about the well-being of our family, friends, and communities. Many of us have been confined in our homes for months and will be living this way for at least a few more weeks.
It's important to adjust to this change in a way that makes us feel calm, safe, and sane—a tall order when faced with upsetting news reports and worsening statistics. Harder still, if serious family problems arise from being locked in or our financial stability crumbles.
This new reality is different for everyone.
We have our own adjustments to make and challenges to face. But we also have people we care about, close to our hearts and in the world at large. While we empathize with the suffering of others, it is vitally important that we also protect our own emotional well-being. This is easier said than done because once we open our hearts, emotions, of all kinds, flood in.
So, how do we keep ourselves emotionally sound and physically fit?
Whenever challenged by an unfortunate situation or condition, it helps to search for the most empowering perspectives. For me, that means finding the answers to these questions:
How can I adapt to the new reality?
What can I gain from this new experience?
How can I stay positive, productive, and happy?
The answers to these questions keep me grounded with purpose and direction.
The stay-at-home life is easier on those of us who have already been living this way: writers, artists, freelancers, homemakers, and everyone else who is accustomed to working from home and limited to their own company. If you have any introvert friends, check in with them. They're probably adjusting better than most.
Although I enjoy interacting with people and am accustomed to attending conferences and teaching seminars, I lead a quiet and near-solitary life. My husband, son, and I all work from home in a house large enough to afford us individual space. We rarely entertain and spend most of our free time in quiet togetherness. Aside from the weekends, when our son stays with friends and my husband and I might catch a movie or dinner, not much has changed with my daily schedule.
I wake at a consistent time.
I meditate every day before I step out of bed.
I settle into work within an hour after having my coffee.
I write until the late afternoon.
I take short breaks for tea, snacks, and the occasional stretch, plank, or stairs.
I end my workday with some combination of yoga, stationary bike, weights, walking, hiking—usually while listening to an audiobook.
I fix a healthy dinner for my family—also while listening to an audiobook.
We enjoy two hours of a binge-worthy show or movie.
I head off to bed at a consistent time and read or meditate before I fall asleep.
That's a snapshot of my daily life. There are variations that involve cleaning, dancing to music, baking, work other than writing, and—before COVID-19—lunch dates with friends, author events, conferences, dinners, and movies. But, basically, I lead a consistently productive, happy, healthy, and self-disciplined life.
Although my lifestyle won't work for everyone, the principles surrounding it might help with a self-quarantine life.
Sleep and wake at consistent times: Consistency helps establish a restful night's sleep and energy to start the day.
Establish a new routine or stick closely to what you did before: It's easier to stay productive and healthy with a schedule and accountability.
Set your intention before you get out of bed: Whether you begin your day with meditation or purposeful thought, it helps to set goals for the day. This could be as simple as eating healthy, working, and exercise.
Focus on your work: Social media is helpful during isolation to keep us connected with our friends, but don't let it intrude on your work time. Establish social media rules—for example: an hour of work before fifteen minutes of social interaction. In essence, think of earning your social media time with constructive activities.
Exercise at least a little bit every day: Instead of overwhelming yourself with huge workouts, try lighter exercises during shorter segments. Bite-sized sessions can be easier to get you into a routine. Include a range of cardio (walking, dancing, biking), stretching (yoga), weights (lifting water bottles will work), core strengthening (planks, crunches, leg lifts), even walking up and down stairs. Once you've grown accustomed to exercising at home, you can introduce more strenuous workouts.
Eat healthy foods and beverages: Treats, snacks, and alcohol are fine in moderation, but be careful of overindulging with unhealthy foods. Comfort-binging leads to weight gain, low energy, and depressed moods. Consuming fewer carbs, sugar, and alcohol will improve your outlook and productivity.
Caring for ourselves keeps us safe, strong, and sane enough to care for others. So, look for ways to adapt, improve, and thrive. Choose the most empowering perspective. And make your experience of social distancing as positive and fulfilling as it can be.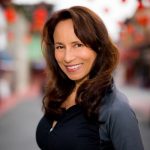 Tori Eldridge is the author of the first Lily Wong thriller The Ninja Daughter, which was nominated for the Lefty Award for Best First Novel. The sequel, The Ninja's Blade, will be released Sept. 1 (Agora Books). Tori is a Hawaiian-Chinese-Norwegian modern-day ninja who holds a fifth-degree black belt in To Shin Do Ninjutsu and has traveled the US teaching seminars on the ninja arts, weapons, and women's self-protection. Find her online at her website and on Twitter.
Featured Photo by Johannes Plenio on Unsplash